Indie news (Feb. 9) – Blast 'em Bunnies (3DS) out next month in Europe / North America
Buddy & Me
Blast 'em Bunnies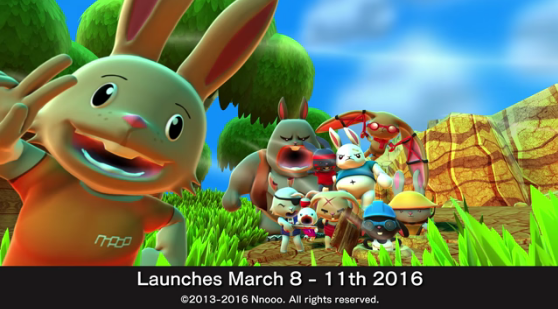 Blast 'em Bunnies is the latest game from Nnooo, and it lets you play as a cartoon bunny called Bang Bang. Your mission? Defend your rabbit burrow from the onslaught of evil rabbits.
To do so, you will be able to use various weapons: carrot rifle, watermelon machine gun, turnip mortar or runner bean laser. You can also use your hard-earned coins in order to purchase new weapons, upgrades or ammo, such as sticky raspberries, heat seeking chilli seeds, shredding leek lasers or bouncing, splitting, exploding pumpkin bombs. There's 4 different weapons, and 16 different types of bullet types.
Blast 'em Bunnies is a first-person shooter, which can be played using the gyroscope of the Nintendo 3DS (that control scheme is not mandatory). Gameplay-wise, battles take place in arenas: bunnies spawn, and you have to defeat them all before they defeat you.
There's several types of enemies to defeat:
Runners
Walkers
Burrowers
Grenadiers
Blockers
Bosses (such as the Throatslitter who tries to kill your kids, and the Golden Bunny who evades your bullets unless you use Frenzy Mode)
Besides the main campaign, the game also features missions (which refresh either on completion or daily), and 50 medals to unlock. There's also:
Survival mode, playable in Easy, Normal, Hard and Very Hard (you need to survive for as long as you can)
Slaughter mode: playable in Normal, Super or Ultra (you must survive for 2 minutes with weaker weapons and health)
Blast 'em Bunnies will be released on March 10th in Europe and North America, on the Nintendo eShop of the Nintendo 3DS. The game will cost $4.99 / 4.99€, and will have some DLC available at launch:
5 Arena Packs: US$/€ 1.99 each. Each one contains a new arena, day/night system and 3 new music tracks
5 Skin Packs: US$/€ 2.99 each. Each one contains 21 new skins (3 for each bunny type)
3 Permanent Multipliers: US$/€ Free to 9.99. The Multipliers cumulatively increase how many coins you collect when you shoot a coin
4 Weapon Unlocks: US$/€ 2.99 to 4.99. For those who don't want to play the game to unlock everything!
There's also some bundles:
5 Skin and Arena Bundles: US$/€ 3.99 each. Each contains a matching skin and arena pack. (Content value of each – US$/€ 4.98)
All Skins and Arena Bundle: US$/€ 9.99. Contains all of the skins and arenas. (Content Value US$/€ 24.90)
Mega Bundle: US$/€ 14.99. Contains all of the skins, arenas and multipliers. (Content Value US$/€ 39.88)
Here's the launch trailer for the game (Xbox and PlayStation 4 versions):
Source: Nnooo
Defense Dome
Yesterday, Hullbreach Studios announced that a Software update for Defense Dome would be available tomorrow (February 10th) in North America. It will fix various bugs impacting:
gyroscope calibration
audio (cutting out)
hit detection
Source: Hullbreach Studios