Art Academy Atelier: some details and screenshots
Last week, Nintendo took everyone by surprise and announced that Art Academy Atelier would come out at the end of next month in Europe (on June 26th, same day as Yoshi's Woolly World). This announcement came after months of complete silence from Nintendo, and several delays.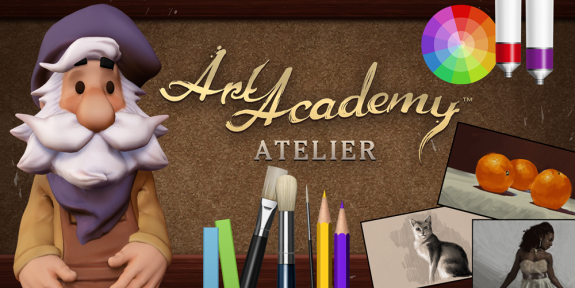 Following this announcement, Nintendo opened the official page for Art Academy Atelier on its website. It includes some more details about the software, starting with Vince (the friendly teacher) which is back to teach you various painting and drawing techniques.
Art Academy Atelier features several lessons: 11 in total for the Beginner and Advanced level, as well as 14 mini-lessons (which focus on the practical element only). You have the choice between Studio Subjects (human and animal models, still life objects) or Landscape Composition. As for the lessons from the "Tool" course, they will teach you how to use various materials.
In Free Paint, you can draw/paint whatever you want, and you can chose to start from scratch or from a reference picture imported via a SD Card. You also have access to various tools:
– Pencils (include monochrome and coloured, soft or hard)
– Graphite Stick
– Pastel Set
– Charcoal Set
– Erasers
– Paint (27 colours, up to 96 hues; can be diluted with water and removed with a rag)
– Raw canvas
– three types of Textured Paper
– a Grid (to guide composition)
– Zooms (for detailed work)
– Colour Wheel (allowing you to to match hues from a reference image)
– Glossary (to check out any unfamiliar terms)
– and more…
Finally, here's some screenshots for Art Academy Atelier, showing some artworks, the Miiverse menu and even the (first-person) Gallery:
Art Academy Atelier (Wii U) comes out on June 26th in Europe, and later this year in Japan and North America.
Source: Nintendo