Ace Attorney anime: first BR/DVD box out on August 24th, includes 13 episodes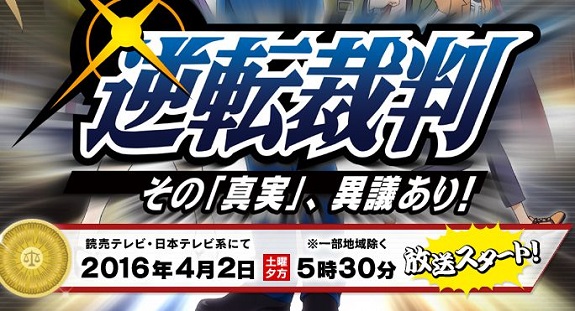 Gyakuten Saiban: Sono "Shinjitsu", Igiari! (lit. Ace Attorney: I object to that "truth") is the very first Ace Attorney animes series, and it debuted on April 2nd in Japan (on Yomiuri TV). Shu Takumi (creator of the Ace Attorney series) confirmed a few weeks ago that it would last 2 cours, so between 22 and 26 episodes.
And today, it was announced that the first Blu-Ray/DVD Box for the Ace Attorney anime would be released on August 24th in Japan, and would cost 17 000 Yen + taxes (Blu-Ray) / 13 000 Yen + taxes (DVD). That first volume includes 13 episodes (the first cour), which implies that the full series will have 26 episodes in total.
What's more, the first volume will get a Limited Edition/Launch Edition, including:
3 discs with the first 13 episodes of the anime series
soundtrack album (music composed by Kaoru Wada) [Limited Edition]
Special case (Limited Edition)
Booklet (Limited Edition)
Creditless Opening and Ending (Limited Edition)
There's also some bonus at certain retailers, such as acrylic mascot figures, towels, and more. Unfortunately, we do not have pictures for those.
Here's a commercial for the first Blu-Ray/DVD box:
Unfortunately, we don't know if/when there will ever be a physical release of the Ace Attorney anime in English (or any other language for that matter).
Source: PRTimes