Ace Attorney: the anime series to last two cours, Crunchyroll stream, 2nd episode preview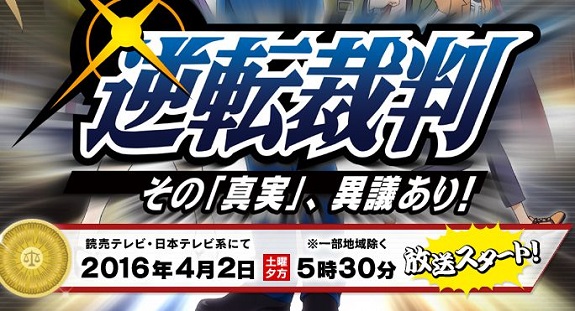 A few minutes ago (at 5.30PM JST), the very first episode of Gyakuten Saiban: Sono Shinjitsu, Igiari! (the Ace Attorney anime series) aired on TV.
Yesterday, Shu Takumi (the creator of the video game series, who worked a supervisor for the anime series) posted quite a few tweets about it (you can find them all translated on this page!). He shared a very amusing anecdote about that one time he forgot almost everything (except the script and ICOCA Card) when going to a recording session.
He also confirms that the anime series will last half a year, which means that it will last two cours, and have between 22 and 26 episodes (depending on which week it ends, if there's any weeks without a new episode, etc.). As mentioned previously, the anime series will cover the first two games in the series (Phoenix Wright: Ace Attorney, and Phoenix Wright: Ace Attorney – Justice for All).
If you're interested in watching the anime series, good news: Crunchyroll has picked it up, which means you will be able to watch it legally, with English subtitles. You can click here for more details! A new episode will be available every Saturday at:
Europe: 1PM
UK: 12PM
North America (ET): 7AM
North America (PT): 4AM
Finally, here's the preview for the next episode, which airs next week!
https://www.youtube.com/watch?v=ixIFh69ZTtg&feature=youtu.be