Ace Attorney 6: release date and new character to be revealed on March 6th

Ace Attorney 6 is the latest mainline entry in the Ace Attorney series, and it will be released sometime this year in Japan. If you're wondering when exactly, good news: you won't have to wonder much longer! Today, Capcom announced that the (Japanese) release date for Ace Attorney 6 would be revealed on March 6th, during a livestream.
Also, Capcom will also reveal "that" character during the livestream… who could it be? Maya Fey? Trucy Wright? Cody Hackins? Oldbag? It's also guaranteed we're going to get some new details from Famitsu magazine pretty soon, most likely the week following the livestream (on March 10th).
The following people will be there during the livestream:
Hirai Yoshiyuki (from Capcom TV)
Ikeda Chocolat (from Capcom TV)
Rio Uchida
The livestream will be on Ameba Fresh!, and will last 2h. It will take place on Sunday, March 6th at:
Europe: 5AM to 7AM
UK: 4AM to 6AM
North America (ET): 11PM (March 5th)
North America (PT): 8PM (March 5th)
Japan: 1PM to 3PM
But that's not all: Capcom is also running a promotional campaign until March 16th. If enough tweets with the #逆転裁判6応援 hashtag are posted until then, goodies will be unlocked on the official website. There's three reward tiers:
6 000 tweets
12 000 tweets
18 000 tweets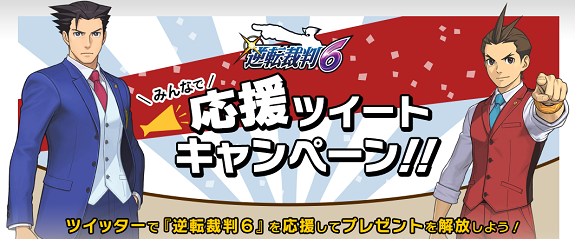 Ace Attorney 6 (3DS) comes out this year in Japan. A European and North American release has already been confirmed.