Story of Seasons: Trio of Towns – Meet the bachelors/bachelorettes (#9: Yuzuki)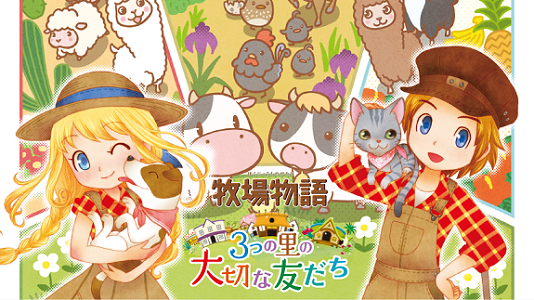 In less than 2 weeks, Story of Seasons: Trio of Towns will be released in North America. Just like most other Harvest Moon games, there's plenty of characters to meet in the game, and you can actually date and marry some of them.
Those special characters are called bachelors/bachelorettes (also known as marriage candidates), and you have to woo them before you can even date them (let alone marry them, or have a child with them).
And to do so, you first need to know more about them. That's why on February 6th, XSEED began introducing the various bachelors and bachelorettes from Story of Seasons: Trio of Towns on their Facebook page. We already know about the 5 bachelorettes (see below for all the links), and on February 13th, XSEED began introducing the various bachelors!
The fourth bachelor in Story of Seasons: Trio of Towns is Yuzuki, from Tsuyukusa:
Hello there. You must be the new farmer from the old property by the crossroads. My name is Yuzuki. It's a pleasure to make your acqua–
!!
Forgive the imposition, but could I ask you to hold still for just a moment? The light is striking your hair in such a way that… Yes, I see it now. That would be a lovely color. But what to do about the material? And of course it shouldn't be too—
Oh, excuse me. That was a terribly rude way to treat a new acquaintance. Please accept my apologies. You see, I design accessories by trade and have been in something of a creative rut of late. When I saw your hair, I was struck with inspiration for a new design.
As I was saying, my name is Yuzuki and I live here in South Tsuyukusa with my grandparents, Omiyo and Umekichi. You can often find me in my workshop here on their farm. Please stop by for a visit any time.
If I'm not in, then you will likely find me strolling about Tsuyukusa. Nothing helps spark my imagination like a brisk walk. Not to mention that Ginjiro's restaurant is on my usual route, and I do love tea and a nice dessert after a stroll.
There are many people around our age here in Tsuyukusa. I hope you can become good friends with all of us. I promise not to treat you as a model again…at least, not without your permission, of course.
Story of Seasons: Trio of Towns (3DS) comes out on February 28th in North America.
Source: XSEED