Yo-kai Watch 3: TV commercials, battle footage, more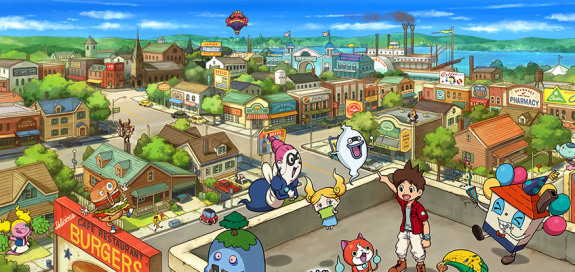 Yo-kai Watch 3: Sushi / Tempura only comes out next month, but Level-5's marketing is already in full-swing. Today, two new TV commercials debuted alongside the latest episode of the anime series. Of course, Level-5 then uploaded both on YouTube, as usual!
The first TV commercial showcases the "Mystery" aspect of the game, with the many mysterious events taking place in the USA-side of the story (with the zombies appearing in towns, the UFOs, and more).
https://www.youtube.com/watch?v=QSiL5DyT2f4
Head after the break for the rest of this post!
The second TV commercial highlights the differences between the two versions of Yo-kai Watch 3: Sushi and Tempura.
Next, we have a gameplay video shwocasing the new grid-based battle system, where you move Yo-kai medals around:
Also, Level-5 announced earlier this week that Yo-kai Watch 3: Sushi / Tempura would be playable at the World Hobby Fair '16 Summer, next week (on June 25-26th). Visitors who try out the game will be able to get a Yo-kai Dream Medal, but also a download giving them a 100% chance to get one of three rare Yo-kai.
Yo-kai Watch 3: Sushi / Tempura will be released in July 16th in Japan.
Source: Dengeki