Year Walk: Simogo and Dakko Dakko bringing the game to Wii U
Update
A few minutes ago, Simogo announced that Year Walk would come out on September 17th on Wii U. Europe/North America/Australia you ask? No need to worry about a potential delay: that date is for all these regions!
Source: Simogo
***
Simogo are primarily mobile developers, but they've wanted to release something on a Nintendo platform for quite a while already. And this year, thanks to the help of Dakko Dakko, this dream will become a reality with Year Walk getting a Wii U version. Right off the bat, they confirm that this will not be a simple port, as they wanted to have a fresh view on the game and make it feel new and at home on Wii U.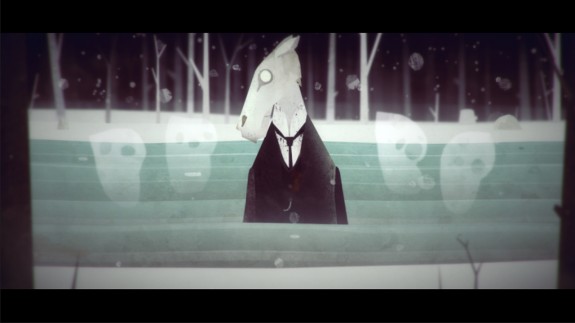 Therefore, the game was completely rebuilt for the Wii U, and will take full advantage of the Wii U GamePad and its second screen. It will be used for various things:
– the encyclopedia;
– the map;
– optional hints;
– note taking: you can take notes at any time during the game, which will be very useful to solve the various puzzles of the game;
– motion controls: you actually control the game using the GamePad's gyroscope, as the touchscreen is used for the encyclopedia and the map. While you do use the left stick to move around, you use motion controls to look around and find things to interact with. The game also uses custom motion controls for the various puzzles: for example, if you find an item, you can "physically" rotate it using the GamePad.
What's more, the developers also chose to use the rumble feature and the speakers of the GamePad, in order to make the experience even more unique on Wii U. Overall, the developers did whatever they could to make this Wii U version as unique as possible: they even changed and added various little things, and some of them will make the players smile "big time".
Here's what Simogo had to say about Year Walk on Wii U, which is described as the best version ever made:
Grim tales, horrifying creatures and cryptic enigmas await in the dark woods of 19th century Sweden. Lose yourself in an ancient rite which bleeds from the TV screen into our world, through the Wii U™ GamePad. Set out on a vision quest to foresee the future and use the screen in your hands to study a mysterious folklore encyclopedia, decipher hints and take notes. Solve tactile puzzles using motion controls, and listen for clues through the GamePad.

Unravel the mysteries which lie between fact, fiction, past and present in Year Walk for Wii U, when it launches via the Nintendo eShop fall 2015.
Here's the trailer for the game:
Here's some screenshots for Year Walk on Wii U:
Year Walk (Wii U eShop) will come out this autumn in Europe and North America.
Source: Simogo