Xenoblade Chronicles X: video showcase [Recording]
Update
Nintendo has uploaded the full recording of the presentation. You can find it below!
***
Xenoblade Chronicles X comes out next week in Japan (on April 29th), but Nintendo hasn't talked too much about the game outside some Nintendo Direct presentations. That being said, it looks like the company didn't want to wait until E3, in June, before showing more about this open-world RPG by Monolith Software.
Nintendo of America announced yesterday that a video showcase of Xenoblade Chronicles X would be streamed live today. It will be followed by Nintendo Treehouse Live presentation. Unfortunately, Nintendo of Europe will not have a similar presentation, as the company directed fans to this one. Nintendo of America also specifies that the video showcase and the Nintendo Treehouse Live will only be available in English.
This Xenoblade Chronicles X video showcase will be streamed live today at:
– North America (East): 2PM
– North America (West): 11AM
– Europe: 8PM
– UK: 7PM
– Japan: 3AM (April 25th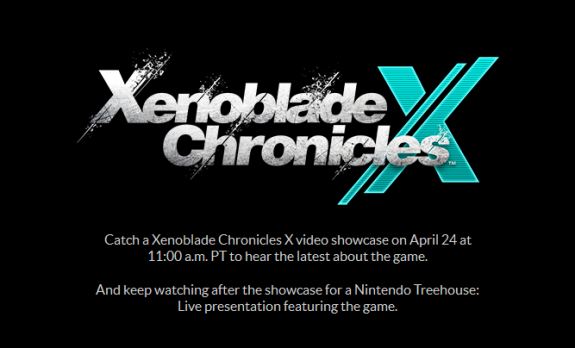 Xenoblade Chronicles X (Wii U) comes out on April 29th in Japan, and later this year in Europe and North America.
Source: Nintendo