The Snack World: Level-5's new cross-media project, coming to the 3DS
During its Level-5 Vision 2015 -The Beginning-, Level-5 was us a nice preview of their next cross-media project. It's called The Snack World, and will get:
– a Nintendo 3DS (+iOS/Android) game by Level-5;
– a manga in CoroCoro magazine;
– a full CG TV anime on TV Tokyo (most likely done by OLM, who did the short movie below);
– NFC toys by Takara Tomy;
– a movie distributed by TOHO.
Several characters were revealed:
– Mayone (voiced by Ayana Taketatsu)
– Chup (voiced by Megumi Han)
– Pepperon (voiced by Kenji Sugimura)
– Butako (voiced by Megumi Okada)
– Gobson (voiced by Tadashi Miyazawa)
– Ousama (voiced by Yoshiyuki Kaneko)
– Meloura-hime (voiced by Ryoka Yuzuki)
– Vinegar (voiced by Tanuki Sugino)
– Crouton (voiced by Yū Seki)
This new cross-media franchise is centered around NFC toys called "Jara", which come in treasure boxes called "Trejarabox" (a word play based on the Japanese pronunciation of "Treasure"). By scanning the NFC chip on the New Nintendo 3DS, the item will be unlocked in the game, but you'll need to go find it yourself thanks to a treasure map. The game itself is described as a "Hyper Casual Fantasy" game.
The two main cities of the game are:
– French Toaster
– King Oyster City
In the game, there will be various brands for the items / equipment, and apparently, collaborations with real-life brands is definitely possible.
Here's the Japanese version of the short movie revealed during the Level-5 Vision 2015 event:
https://www.youtube.com/watch?v=zm4J3m6LoUc
An English version will be coming soon, if the official website is to be believed: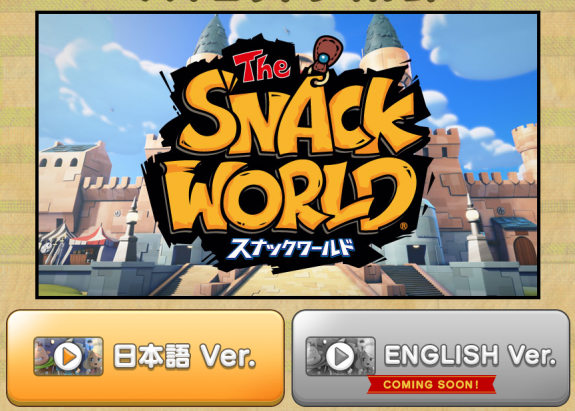 During the press conference, Akihiro Hino said that they were already planning to launch the franchise in the West… since they're currently working on an English version of the short movie, it certainly looks like it!
Here's the credits for this short movie:
– Chief Director/Story concept/Script/Lyrics of the "Mugen the World" theme: Akihiro Hino
– Chara-design: Takuzou Nagano (Inazuma Eleven, Yo-kai Watch, etc.)
– Music: Rei Kondoh
– Animation: OLM (and OLM Digital)
Here's various screencaps from the official website:
And finally, some official screenshots/artworks for the game/short movie:
The Snack World will get a Nintendo 3DS game.
Source: Level-5 / 4Gamer.net
Via: ANN (cast / short movie details)