Super Mario Maker: new update available (Ver. 1.44)
Back in May, Nintendo released a new update for Super Mario Maker, adding some new elements (including a new difficulty level for the difficulty filter), but nothing really groundbreaking. And today, more than two months later, Nintendo has released one more update for the game.
Unfortunately, since this update wasn't announced beforehand, it's no surprise that it doesn't include significant new features such as new course elements, for example. It does includes the usual changes/improvements (including one impacting the infamous gnats/flies), but nothing really major. Of course, there's also the usual "enhancements to improve the user's experience and enjoyment"!
Here's the official changelog in English for Super Mario Maker Ver. 1.44:
Stars are no longer given when posting a comment while playing a course or after completing a course
Changes the conditions for gnats to appear in "Create" mode
Introduces additional enhancements to improve the user's experience and enjoyment
This update requires 377MB of free space on your Wii U or external HDD, and needs to be downloaded before you can use the online features of the game. To download it, you have two options:
let the Wii U do its thing if you have automatic downloads activated. You should have the latest version installed the next time you launch the game (provided you did launch it at least once since the last update);
if not, launch Super Mario Maker from the Home Menu of the Wii U (not the Quick Start Menu) in order to trigger the download manually.
To check that you have the latest version of Super Mario Maker, simply launch the game. You should see "Ver. 1.44" in the bottom right corner of the screen: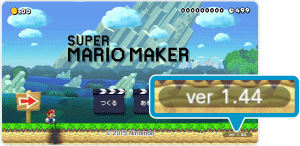 Source: Nintendo