Stella Glow was delayed due to "sales-related problems"
When Image Epoch revealed Stella Glow (a Strategy RPG on 3DS, meant to celebrate the company's 10th anniversary), they announced that the game would come out in Early Winter 2015. But now, the game won't even come out until June 4th… which isn't really in Winter. This delay is apparently due to sales-related problems, as the company didn't encounter any with development.
In an interview published in this week's Famitsu, Hideyuki Mizutani (Producer) explains that when Stella Glow was announced, back in October, the game was almost complete. It went gold by the end of November, but due to some sales-related problems, the release had to be delayed.
Image Epoch was actually supposed to publish Stella Glow themselves, but due to those sales-related problems, they had no choice but to go and see SEGA (which is now the publisher for the game). This isn't the first time the two companies are working together, as they already did so with the 7th Dragon 2020 series.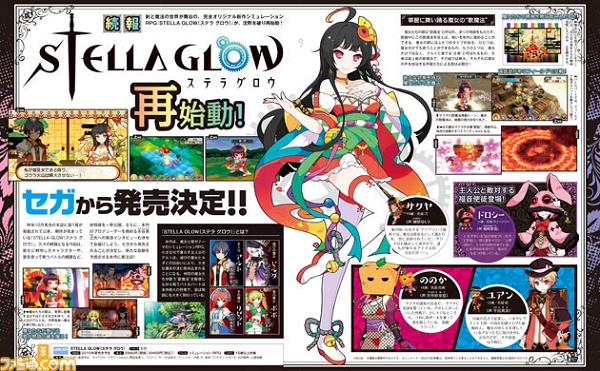 Famitsu also has some information about 4 new characters:
– Sakuya (voiced by Yui Sakakibara): the Eastern Witch and Song Maiden
– Nonoka (voiced by Sayuri Yahagi): the Ninja Guard
– Yuan (voiced by Mana Hirata): the Merchant
– Dorothee (voiced by Atsumi Tanezaki): Hilda's Lackey Enemy Witch
Stella Glow (3DS) comes out on June 4th in Japan.
Source: Famitsu (via Gematsu)