Splatoon: new update (Ver. 2.7.0), new weapons, maintenance, coming tomorrow
Update: added full official English changelog (thanks Pidge for the heads up!)
Update 2: added two new weapons.
Update 3: added two new weapons.
***
Today, Nintendo made several announcements for Splatoon, which will get some maintenance, a new update, and some new weapons next week!
Maintenance
Next week, there will be some maintenance for Splatoon. For 1h40 (max.), all online services will be unavailable. This is obviously in preparation for the next Software update, which will be released shortly after.
Here's the time for the maintenance:
Europe: April 13th (2.50AM to 4.30AM)
UK: April 13th (1.50AM to 3.30AM)
North America (ET): April 12th (8.50PM to 10.30PM)
North America (PT): April 12th (5.50PM to 7.30PM)
Japan: April 13th (9.50AM to 11.30AM)
Click here to check out Maintenance page!
Update
Following the maintenance, Splatoon will get a new Software update. It will bring the game to Ver. 2.7.0, with quite a lot of changes, fixes, and more. It will bring 8 new weapons, along with game balance fixes for many of the already existing weapons.
Here's the official changelog in English:
New weapons

Eight new weapons added, available in the weapon shop Ammo Knights

Please note: the new weapons will appear in the shop following the release of the software update.

Splatfest adjustments

Changed the initial Splatfest Power value for rank S+

Weapon adjustments

Stage adjustments

Saltspray Rig: Adjustments to prevent players from taking certain shortcuts in all modes.
Bluefin Depot: Fixed a problem where players could go inside a certain object in Rainmaker mode.
Flounder Heights: Adjustments to prevent users from taking certain shortcuts in Tower Control mode.

Fixes for issues in battles

Fixes an issue wherein players could perform a Super Jump while holding the Rainmaker if their connection speed was exceptionally slow.
Fixes an issue wherein on rare occasions players near to a Splash Wall wouldn't suffer damage, even before the Splash Wall is activated.
Fixes an issue wherein if a placed Suction Bomb comes into contact with a Splash Wall and explodes, sometimes the blast damage would go beyond the Splash Wall.
Fixes an issue wherein opponents completely hidden by obstacles in the way could be hit by an Inkzooka or Rainmaker attack fired upwards.
Fixes an issue wherein Splash Walls would sometimes not take damage when hit by an Inkzooka or Rainmaker attack.
Fixes an issue wherein players could hit opponents on the other side of a Splash Wall with a Rainmaker attack, depending on the position where it hits the Splash Wall.
Fixes an issue wherein if multiple players set an Ink Mine at the same time, they would sometimes explode on their own, despite not being painted in the opposing colour, no opposing players being close and their maximum time before automatically exploding not being reached.
Fixes an issue wherein players could take damage from a friendly Ink Mine, depending on their relative position.
Fixes an issue wherein when aiming at a Kraken on the ground the display wouldn't change to a cross to indicate it would hit, despite the crosshairs being over the target, and where Seekers would not follow Krakens.

Other changes

Introduces several enhancements to improve the user's experience and enjoyment
The update requires 126MB of free space on your Wii U or external HDD if you have all previous updates already downloaded. If you don't, you will need up to 763MB of free space. To download this update, you have two options:
let the Wii U do its thing if you have automatic downloads activated. You should have the latest version installed the next time you launch Splatoon;
if not, launch Splatoon from the Home Menu of your Wii U (not the Quick Start Menu), in order to trigger the download manually.
To check that you have the latest version of Splatoon, simply launch the game. You should "Ver. 2.7.0" at the top right corner of the screen.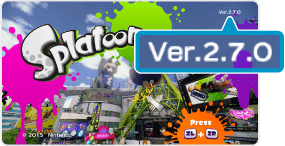 Source: Nintendo
New weapons
Some new weapons will be added to Splatoon right after the maintenance:
Europe: April 13th (4AM)
UK: April 13th (3AM)
North America (ET): April 12th (10PM)
North America (PT): April 12th (7PM)
Japan: April 13th (11AM)
The new weapons are part of the first volume of the Sheldon's Pick, which were announced during the Nintendo Direct last month. Here's some of them:
Wasabi Splattershot: Splat Bombs (Sub Weapon), Ink Strike (Special Weapon)
Berry Splatershot Pro: Suction Bombs (Sub Weapon), Bomb Rush (Special Weapon)
Fresh Squiffer: Suction Bombs (Sub Weapon), Kraken (Special Weapon)
Permanent Inkbrush: Splat Bombs (Sub Weapon), Kraken (Special Weapon)
Soda Slosher: Splat Bombs (Sub Weapon), Inkzooka (Special Weapon)
Bamboozler 14 Mk III: Burst Bombs (Sub Weapon), Ink Strike (Special Weapon)
Tempered Dynamo Roller: Seeker (Sub Weapon), Killer Wail (Special Weapon)
Refurbished Mini Splatling: Burst Bombs (Sub Weapon), Bomb Rush (Special Weapon)
Here's the screenshots for those weapons:
Source: Squid Research Lab