Splatoon: new Software update coming this week (Ver. 2.1.0), official changelog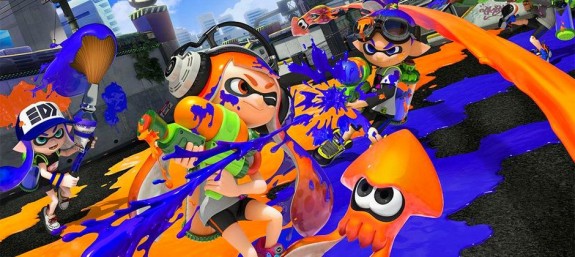 Earlier today, Nintendo announced that servers for Splatoon would be down for maintenance on Tuesday evening / Wednesday morning, in order to prepare for the latest Software update. Since Nintendo has finally published the official changelog for the update in English, we're now making this post, with all the details about this update.
So… what's new in this Ver. 2.1.0 of Splatoon? Unfortunately… nothing new, really. As mentionned this morning by the Squid Research Lab, this update only consists of various fixes for glitches/exploits, with several elements reverted back to how they were in Ver. 1.3.0.. Good news for players getting connection errors all the time: errors with error code 104-2230 should be gone after applying this update.
Here's the official changelog for Splatoon Ver. 2.1.0 (which requires 598MB of free space on your Wii U or External HDD):
Changes to stages

Arowana Mall: Changes the layout in all modes to prevent users from travelling in an unintended way at a specific location.
Camp Triggerfish: Changes the layout in Turf War and Splat Zones to prevent users from travelling in an unintended way at a specific location.

Changes to main weapons

Rollers: Corrects an issue introduced in version 2.0.0 that affected camera movements while moving with the roller raised.

Changes to sub weapons

Splash Wall: Corrects an issue where throwing a bomb while touching the opposing team's Splash Wall would occasionally damage opposing players on the other side.

Changes to Ranked Battles

Tower Control: Fixes an issue where the distance counters would display the same number when the scores were very similar.
Tower Control: Corrects the behaviour of the distance counter when the tower is taken by the other team, having reached the same distance as the opponents but not overtaken them. (In version 2.0.0, the team in the lead lost one distance point, but in version 1.3.0 and earlier the team in the lead gained one distance point.)

Other changes

Corrects an issue where updating the software would cause the error code 104-2230
Introduces several enhancements to improve the user's experience and enjoyment

Additional information

This update is required in order to play online.
Downloading this update will not impact your save data
As announced this morning by the Squid Research Lab, the update will be available at:
Europe: 3AM (Wednesday)
UK: 2AM (Wednesday)
North America (EDT): 9PM (Tuesday)
North America (PDT): 6PM (Tuesday)
Japan: 10AM (Wednesday)
To download this update, you have two options:
let the console do its thing if you have automatic downloads activated on your Wii U. You should have the latest version of the game installed the next time you launch the game.
launch the game from the Home Menu (not the Quick Start Menu, which bypasses the update check), in order to trigger the download.
To check that you have the latest version of the game, simply launch Splatoon. You should see Ver. 2.1.0 at the top right corner of the TV screen, as shown on the picture below: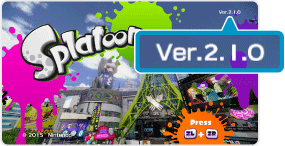 Source: Nintendo