Super Mario Maker: Takashi Tezuka gives more details about the artbook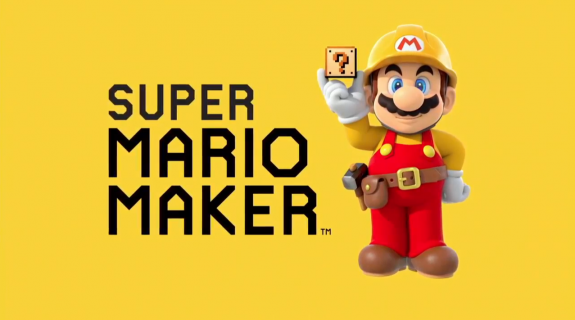 On July 3rd (at the Japan Expo), Shigeru Miyamoto, Takashi Tezuka and Tsubasa Sakaguchi gave a Master Class, in which they talked about several already-released and upcoming games from Nintendo. Of course, Super Mario Maker was showcased during this event, with Shigeru Miyamoto and Takashi Tezuka trying out a level created by Michel Ancel.
But that's not all: Takashi Tezuka also gave more details about the special Artbook, which comes with all copies of the game (regular, Limited Edition and Wii U bundles. If you're buying digital, you can download the Artbook as a PDF, or buy it separately if you prefer). First, he explained why he wanted to make that Artbook.
The first reason is that Takashi Tezuka wanted to make something for people who are not familiar with creating levels, especially from scratch. This Artbook is there to help them not only understand how it works, but also give them some inspiration. Inside, there's various illustrations, accompanied by serial codes. Entering them in Super Mario Maker allows you to watch short movies based on the page they're from.
The second reason is that Takashi Tezuka wanted something that would forever remain in the hearts of gamers… he certainly is a soft one! For Takashi Tezuka, the book could almost be considered a picture book, and the various sprites could very well give ideas to players reading it (with lots of clues and tips in the book and videos).

Inside, players will find lots of "funny" and interesting pages, such as one which shows the movement patterns of the enemies in the original Super Mario Bros.. There's also pictures of the levels from that game, drawn on paper: Takashi Tezuka explains that back in the days, they had to draw the levels by hand, on paper. When done, they would give the drawings to the programmers, and would have to wait roughly a day before being able to test anything.
At the end, Takashi Tezuka showed a short video, detailing the creation of a short level (2 screens). Of course, there's a puzzle that players have to solve in order to reach the exit, so everything is not as easy as it seems. What's more, the video shows how players can add difficulty by forcing the players to move the switch for the exit.
Here's the video from the Master Class, in which Takashi Tezuka talks about the Artbook for Super Mario Maker:
Super Mario Maker (Wii U) comes out on September 10th in Japan, and September 11th in Europe and North America.
Source: Nintendo