Senran Kagura 2: localisation blog post #1
Last week, XSEED published the very first localisation blog post for Senran Kagura 2: Deep Crimson, announced for the West exactly one week ago. It starts by explaining that the game takes place after the events Senran Kagura Burst, but before those of Senran Kagura Shinovi Versus. During the very first chapter, you'll get to fight the demon Orochi, the very demon you go against at the end of Senran Kagura Burst.
In this game, you'll get to fight many demons, of all shapes and sizes: some are small, some are really gigantic, while others are half-human… some of them actually copy human bodies and the abilities of the protagonists. Just like the previous games in the series, the story will focus a lot on the various characters and their (strong) personalities, their past and their personal hurdles. Of course, it will have the right amount of drama and humour, along with the usual fanservice.
One of the main novelties of this game: you can now fight with two characters during battles. For story missions, you'll have to play with a fixed team the first time around, but you can then chose to bring whoever you want once you've cleared them. Obviously, the AI controls the second character during battles, but you can switch from one to the other at will.
If one of the two girls happen to fall in battle, you can get her back on her feet… but enemy teams can also do the same, so it's better to take them down both at once, instead of doing it one at a time. And since you have two characters at your disposal, that means you can unleash powerful tandem Secret Ninja Arts, which get even more powerful as the bond between the two characters grow.
On a technical level, Senran Kagura 2: Deep Crimson offers smooth framerate, brand new animations, enhanced physics ("to add a little extra bounce") and more.
The team at XSEED has already completed the first editing pass, and the English text has been sent to the developers in Japan, who will add it to the game. That way, they'll get the very first English build of the game: the team will then play that build several times, in order to check that all the text fits, that there's no discrepancies in the translation, and more. They will also get other small things ready, like packaging for example… localisation isn't just about translating, after all!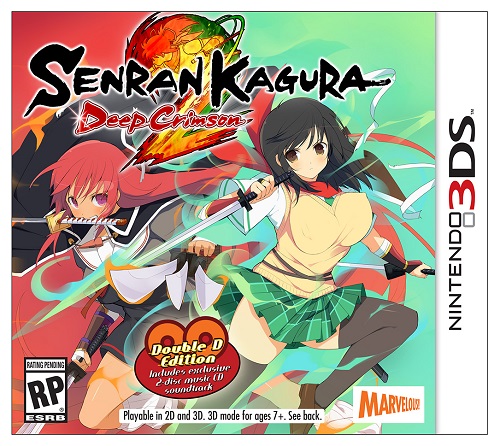 Senran Kagura 2: Deep Crimson (3DS) will come out this Summer in both Europe and North America.
Source: XSEED