Pokémon news (Jan. 8) – Pokkén Tournament: new fighter to be revealed next week
Pokkén Tournament
Today, Bandai-Namco announced that a brand new fighter for Pokkén Tournament would be revealed on January 15th (that's next Friday). Unfortunately, the hint they gave isn't very helpful: it's a Pokémon with "ra" in its (Japanese) name. The problem with that hint? There's quite a few Pokémon that meets that criterion!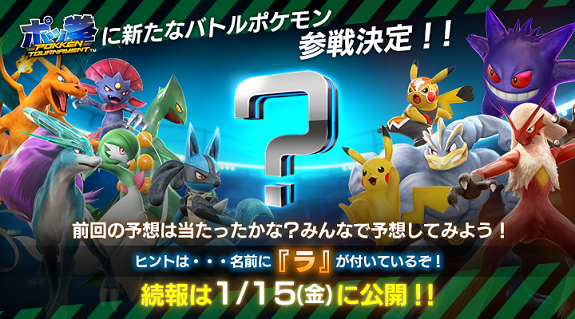 Source: Bandai-Namco
Battle competition
Yesterday, the 2016 International Challenge – January was announced. Here's the rules:
Battles: Double Battles
Rules: current VGC rules
Legendary Pokémon allowed (two max.): Mewtwo, Lugia, Ho-Oh, Groudon, Kyogre, Rayquaza, Dialga, Palkia, Giratina, Reshiram, Zekrom, Kyurem, Xerneas, Yveltal, and Zygarde;
Registration: from January 21st to January 28th
Battles: from January 29th to January 31st
Reward: 2000 PokéMiles for all players, Championship Points for the Top 256 players of each age division.
Pokémon disitribution
If you live in Australia and New Zealand, you will soon be able to get Hoopa. The event will run from January 18th to January 26th, at:
Australia: JB Hi-Fi, EB Games, and Big W;
New Zealand: JB Hi-Fi, and EB Games
Just like other distribution, you will get a serial code from these retailers (to be used in Pokémon X / Y / Omega Ruby / Alpha Sapphire).
Source: Serebii