Pokémon news (April 6th): Pokémon Shuffle Challenge, 3 million downloads worldwide
Pokémon Shuffle
Today, a new challenge featuring Blastoise was made available for Pokémon Shuffle around the world. Similar to the one for Mega Lucario, it allows you to get a Blastoisinite: to get it, you need to rank among the top 10 000 players in Europe, top 20 000 plyaers in North America, or top 50 000 players in Japan (if you don't, you'll simply get a Jewel). You have until to April 13th at 05:00 UTC to play and get the best score possible.
To access this new challenge, you need to update the game to version 1.1.8., by using the in-game check-in option.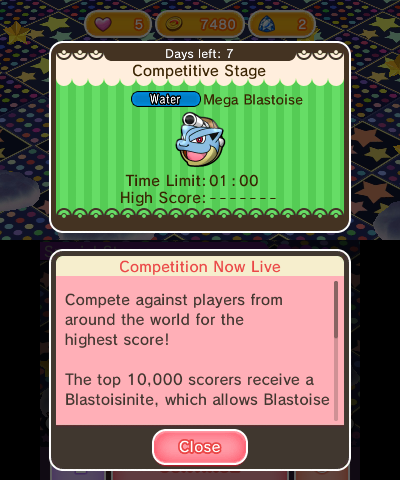 But that's not all: it has just been announced that Pokémon Shuffle has been downloaded over 3 million times, worldwide. Two weeks ago, we learned that it had reached 2.5 million downloads, which means that the game now has over 500 000 additional players since March 23th!
Shiny Charizard
A little reminder for UK players: the Shiny Charizard event is now live since Friday, and until April 19th. By going to one of the GAME stores across the country, you can get a serial code allowing you to download a special Shiny Charizard (holding a Charizardite Y). As noted by Serebii, you need to update Pokémon Omega Ruby / Alpha Sapphire to version 1.3 before you can use the code.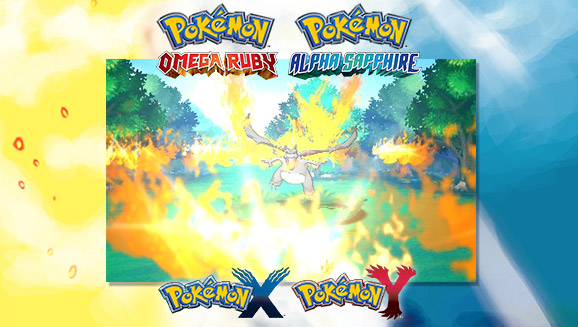 Battle competition
Last week, The Pokémon Company announced a brand new Battle Competition for Pokémon Omega Ruby / Alpha Sapphire. It's called the 2015 International Challenge April, and runs from April 24th to April 26th (the registration period runs from April 16th to April 23rd).The Top 256 players will get some Championships Points (which allow them to quality for the 2015 World Championships).
The rules are as follow:
– Double Battle
– National Pokédex only (witout the usual Legendary Pokémon)
Pokémon Championship Series – Australia / New Zealand
New dates for the Pokémon Championships in Australia / New Zealand were announced last week:
– Perth Arena (Perth), on Sunday, April 26th
– Collingwood Town Hall (Collywood, in Melbourne) on Sunday, May 3rd
– Aotea Centre (Auckland, New Zealand), on Saturday, May 9th
– The Ellington (Hackney, Adelaide), on Saturday, May 16th.
Source: Serebii