Nintendo: Vans sneakers coming this Summer
Update
We updated this post with even more pictures of Nintendo Vans shoes, courtesy of GameSpot!
***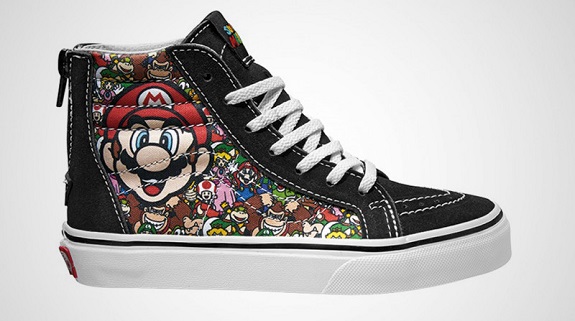 Back in January, in an interview with Le Figaro (French newspaper), Philippe Lavoué from Nintendo France announced that some more official Nintendo merchandise was on the way. He mentioned a partnership with Undiz (a chain of stores selling underwear / pajamas for women), but also one with Vans, the famous and popular shoes/sneakers brand.
And today, thanks to 43 Einhald (spotted by Sole Collector), we have the first pictures of the Nintendo range of Vans sneakers. The collection is surprisingly retro (it's evident Nintendo is targeting "old" fans who grew up playing the NES), with shoes based on:
Super Mario Bros. (and Donkey Kong) series;
Nintendo Entertainment System controller
Nintendo Entertainment System colours
The Legend of Zelda (NES)
Super Mario Bros. (NES)
Princess Peach
Duck Hunt (NES)
Donkey Kong (NES)
Those Nintendo Vans will be released this Summer, and more precisely in June (at least in Europe) according to 43 Einhald (a German retailer specialised in shoes). Unfortunately, we don't know how much they will cost, and how many models there will be in the Nintendo collection. No doubt we will get more details about it within the next few weeks.
Here's some pictures of those Nintendo Vans:
And here's some more pictures:
Source: 43 Einhalb
Via: Sole Collector