Nintendo Investor Briefing (Oct. 2018): Nintendo Switch outlook for holiday season and beyond
During the latest Nintendo Investor Briefing, Shuntaro Furukawa (the new president of the company) talked about the Nintendo Switch and its outlook for the upcoming holiday season and beyond.
This year, the holiday season is looking pretty good for the console. Not only does it have solid foundations to rely one (the evergreen titles and the rich and diverse library), but Nintendo has also prepared several key titles that "every user in the household will want". Those games will further accelerate sales and the momentum carrying the console.
Those new games are aimed at a wide audience, from video games fans to families. What's more, they also take advantage of the features of the Nintendo Switch (including local multiplayer). For Nintendo, the holiday season is just the beginning: the games will make the console appealing to a wide range of customers beyond that.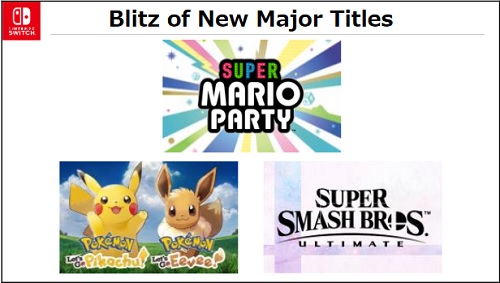 One of the key titles mentioned by Nintendo is Super Mario Party. This entry is a return to the series' roots, and is packed with fun that resonates well with the "play anytime, anywhere, with anyone" concept. Also, Mario Party is popular with a wide range of players, from complete newcomers to long-time fans, who can enjoy the game together. Nintendo expects it to become yet another evergreen title, especially thanks to players looking for a fun game for their parties.
And so far, Super Mario Party is doing pretty well, with over 1.5 million units sold worldwide (including digital sales): that's much better than recent entries in the series. Strong momentum is carrying the game, which should prove popular during the holiday season.
Interesting fact: Nintendo also reports increased sales of Joy-Cons thanks to Super Mario Party, which isn't too surprising: this is a game you want to play with as many people as possible, and the console only comes with two Joy-Cons.
Nintendo expects sales to further increase as Super Mario Party is played in places where people gather (parties, family reunions, etc.). After all, it's a game that's extremely easy to pick up, even for someone who has never been near a Nintendo Switch console before. The company believes it has potential to drive hardware sales, because of people getting the urge to get their own console and game after playing together with friends or family members.
The second key title is Pokémon: Let's Go, Pikachu! / Let's Go, Eevee, releasing on November 6th. This is the first mainline Pokémon game on Nintendo Switch, and it's been designed specifically for newcomers, while offering new experiences for Pokémon fans. Among the new features, there's co-op: a first for the Pokémon series.
Alongside the game, the Poké Ball Plus accessory will be released. It can be used as a controller (with various features detailed in this post), but it also allows players to take their favourite Pokémon with them in the real world.
It's a good thing Nintendo and The Pokémon Company decided to release a bundle with the game and the Poké Ball Plus accessory, because that very bundle accounts for more than half of all pre-orders for Pokémon: Let's Go, Pikachu! / Let's Go, Eevee!.
Both the Poké Ball Plus and Pokémon: Let's Go, Pikachu! / Let's Go, Eevee! can be connected to Pokémon GO, allowing them to enjoy various benefits in both games (such as being able to get Meltan and Melmetal). It definitely wouldn't be farfetched to say Nintendo is expecting the same synergy seen following the launch of Pokémon GO in 2016 (with Pokémon Omega Ruby and Alpha Sapphire and Nintendo 3DS sales getting a healthy boost) work its magic once again.
Since it knows Pokémon: Let's Go, Pikachu! / Let's Go, Eevee! is going to bring in a lot of new players, Nintendo prepared not one, but two Nintendo Switch bundles (check out this post for more details about them).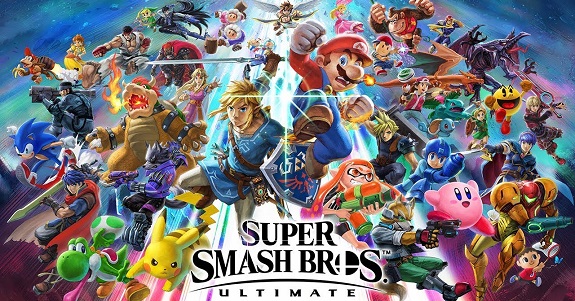 Of course, Super Smash Bros. Ultimate is definitely one of the key titles for the holiday season. It's the biggest Super Smash Bros. game to date, offering the same beloved gameplay that's both accessible to newcomers and deep enough for experienced players. Nitnendo described it as a very "welcoming" game: even people who don't play games too much will recognise various elements. That's why Nintendo is not planning to target only Smash fans with this game, but instead a wide range of players.
What's more, Super Smash Bros. is a very special game for the company, since many players end up discovering games, series, and characters thanks to it (Fire Emblem is one series that did benefit from the 'Smash exposure'). That's something Nintendo is well aware of: they know the power Smash has to enhance the appeal of their various IPs.
After all, it's no wonder Super Smash Bros. for Wii U and Nintendo 3DS is the game that was used to launch the amiibo figures. Speaking of amiibo, they have now sold over 50 million units worldwide. New figures will be released alongside the game, and eventually, all the new fighters will get their own.
But it's not just amiibo: Nintendo will also release some accessories, including a special Nintendo Switch Pro Controller. There's also a Super Smash Bros. Ultimate bundle including the console (with special design), a download code for the game, and more. It will be released ahead of launch, on November 2nd.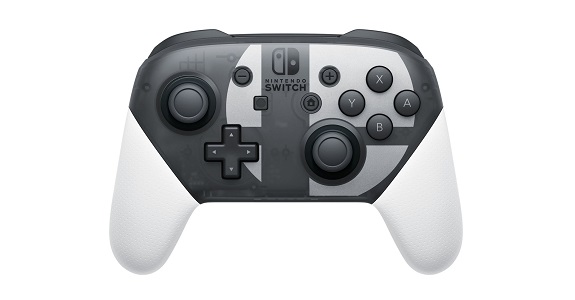 Speaking of bundles, Nintendo is going all out this holiday season. Alongside the Pokémon: Let's Go, Pikachu! / Let's Go, Eevee! and Super Smash Bros. Ultimate bundles we just mentioned, there's also one for Fortnite and Diablo III: Eternal Collection in Europe and North America.
Quite interestingly, Nintendo expects Nintendo Labo sales to accelerate during the holiday season, since it's something that people could buy as gift for their kids at Christmas, like a regular toy.
Finally, Nintendo mentions some of the games they have in the works for a 2019 release, such as Fire Emblem: Three Houses and Luigi's Mansion 3.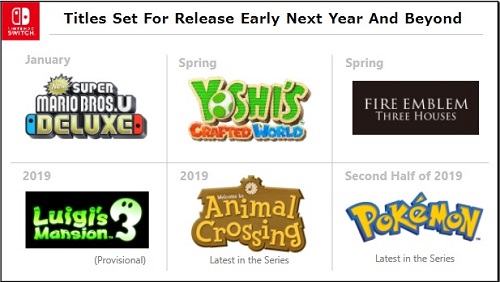 Source: Nintendo