Nintendo Investor Briefing (Feb. 2018) – Kimishima on Nintendo Switch sales
During the latest Nintendo Investor Briefing, Tatsumi Kimishima talked at great lengths about the Nintendo Switch, and more precisely its sales. During the previous one (back in October), he explained that their goal for the console was to attract a wide range of users, but also expand production in order to cope up with demand during the holiday season.
And it looks like both goals were reached. During the holiday season, sales increased noticeably in all three main regions, with strong momentum. In North America, the Nintendo Switch is actually selling faster than the Wii, though the latter is yet to get its first full holiday season.
That's actually something Kimishima himself points out: the 3 consoles in the graph below were not all released during the same month, so a direct comparison is not the best, but at the very least, it shows there's strong interest in the console.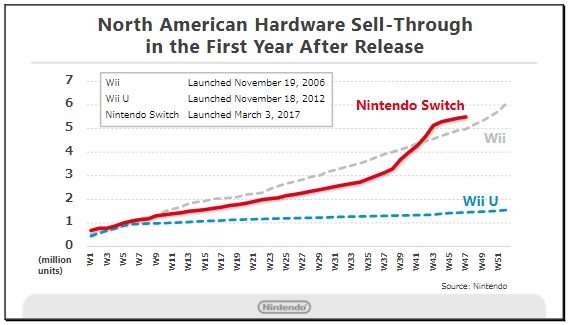 In Europe, Nintendo Switch sales also increased dramatically during the holiday season, bringing them to same level as the Wii. Looking at the graph, you can clearly see the many months without sufficient shipments!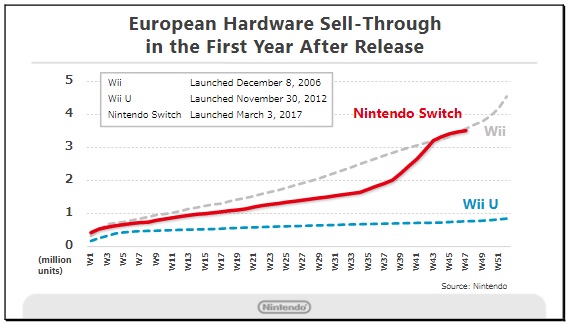 Unfortunately, in Japan, the Nintendo Switch was not able to catch up with the Wii, despite significantly bigger shipments during the holiday season.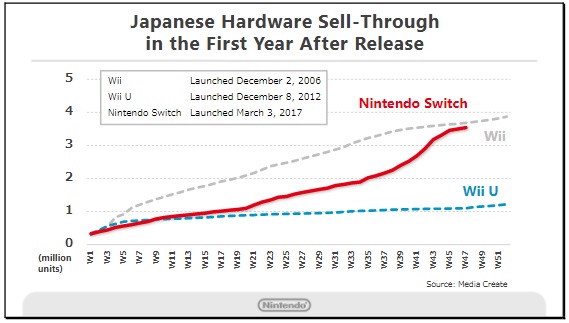 As of Early December, the Nintendo Switch had sold over 10 million units worldwide. By the end of the month, it was at 13 million units. According to Tatsumi Kimishima, the first holiday season "exceeded [their] expectations".
Nintendo's motto for the Nintendo Switch, "Play Anytime, Anywhere, with Anyone", was at the center of a promotional campaign in Europe, where people were invited to share pictures of themselves playing the Nintendo Switch in various places, on Twitter.
The many pictures shared are proof that the main concept behind the console was well-received. According to Tatsumi Kimishima, the momentum carrying Nintendo Switch sales is due to the console being unlike any other platform, and its feature appreciated by players all around the world.
So far, 3 games have already sold over 6 million units worldwide:
The Legend of Zelda: Breath of the Wild (over 6 million units on Nintendo Switch alone, 7.5 million units with Wii U version)
Mario Kart 8 Deluxe (over 6.5 million units sold), a game where you can share a Joy-Con and start playing with another player right away, which is one of the key features of the console;
Super Mario Odyssey (over 7.5 million units sold, with explosive sales since its release, and currently the best-selling game on Nintendo Switch).
As for Splatoon 2, it's "only" sold over 4.5 million units worldwide, which is more than Splatoon during its entire lifetime. It was a system-seller for the console, especially in Japan where the attach rate is around 60%… in other words, more than 1 Nintendo Switch owner in 2 bought Splatoon 2.
Source: Nintendo