Nintendo Investor Briefing (Apr. 2018) – Kimishima on mobile games
During the latest Nintendo Investor Briefing, Tatsumi Kimishima talked about the company's mobile games, and shared some interesting stats about them.
First: Animal Crossing: Pocket Camp. Tatsumi Kimishima explained that many people have played it, including many adult women. In fact, the majority of users happen to be women: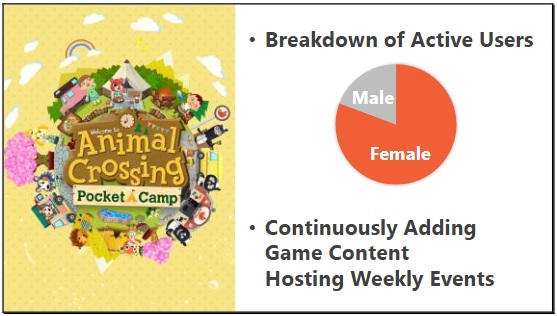 Moving forward, more content will be added via various updates, and weekly events will be held… business as usual for a mobile game, then! In Japan, TV Commercial have even started airing:
https://www.youtube.com/watch?v=nj1DgTRvSwU
https://www.youtube.com/watch?v=qwsp9EHUYRo
Nintendo intends to keep improving the game, and make it more fun for players, all the while considering how it contributes to revenue. In other words: avoid what happened with Miitomo, that was just left to die pretty early on.
As for Super Mario Run, the number of downloads keeps on growing, even though it's been released over a year ago. Every month, an average of 20 million people play the game.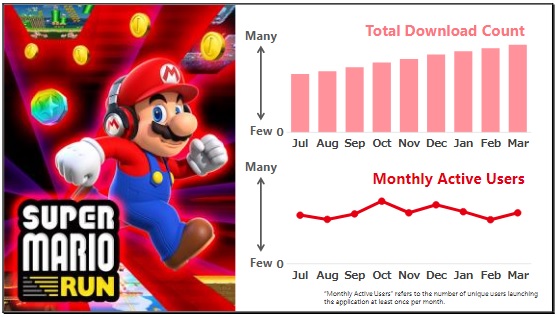 Those two stats have led Tatsumi Kimishima to refer to Super Mario Run as an "evergreen title for smart devices". Moving forward, Nintendo will keep on looking to it as a way to maximize the number of people who have access to Nintendo IP.
Next: Fire Emblem Heroes. It was launched in Hong Kong, Taiwan, Macau, Thailand, and Singapore in November, and celebrated its 1st Anniversary in February. So far, Nintendo has been able to keep active users while expanding the userbase, which is why it's no surprise sales have continued to grow without slowing.
Even though one might think the series, and therefore the game, would be more popular in Japan, the share of overseas sales is steadily growing: in fact, the majority of sales come from outside Japan now. Moving forward, Nintendo will work to continally come up with new measures to keep players engaged (think of content updates, events, etc.).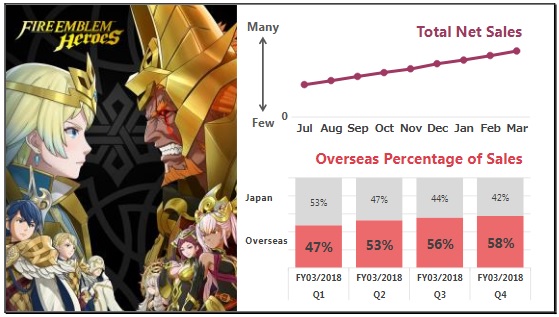 Of course, Nintendo will continue providing new content to existing games, while releasing new ones.
So far, the smart device business has reached some of the objectives Nintendo had set for it (such as the expansion of the number of people who have access to Nintendo IP), but it has not reached a satisfactory profit point yet. Therefore, the company is going to further expand the scale of this business, and turn it into one of the pillars of revenue (alongside the Nintendo Switch).
One of the new mobile games releasing soon is Dragalia Lost: check out this post for more details about it! Another one is Mario Kart Tour, announced during the previous meeting with investors, and releasing before March 31st.
Finally, Tatsumi Kimishima explained that for the current Fiscal Year, the Nintendo Switch will be at the core of Nintendo's business. The continuation of the Nintendo 3DS will provide additional revnue, and the expansion of the mobile business will lead it to become another pillar of revenue for the company. Of course, let's not forget the efforts to expand the number of people who have access to Nintendo IP.
Source: Nintendo