Minecraft: Story Mode also coming to Wii U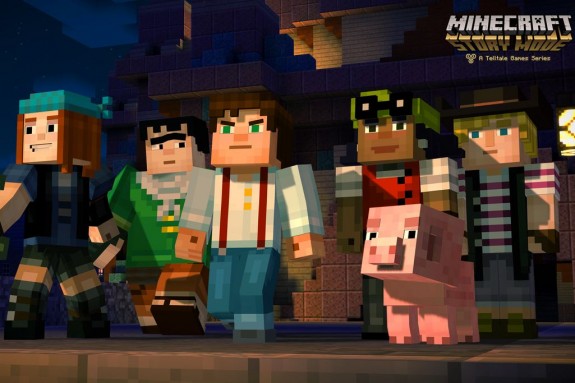 Unless you've been living under a rock for the past 6 years, there is no way you've never heard of Minecraft before. First released on PC, the game has millions of players all over the world, and Minecraft videos on YouTube have already racked up billions of views. Since its launch in 2009, the game has been ported to pretty much every platform… with the exception on the Wii U and the Nintendo 3DS.
And today, it was announced that Minecraft would finally come out on a Nintendo platform this Fall… but not the way you were expecting. Indeed, it's not the actual Minecraft which is headed to the Wii U, but Minecraft: Story Mode, an adventure game developed by TellTale Games. It was originally announced in December last year, but the Wii U wasn't mentionned back then.
In this game, you get to play as Jesse (voiced by Patton Oswalt), and his friends, who will need to find the Order of the Stone (who defeated the powerful Ender Dragon) in order to stop a catastrophe that might very well destroy the whole world. Apparently, the various characters represents the various kind of Minecraft players: those who spend their time building things, exploring, fighting, etc..
Here's the announcement trailer for the game:
This announcement certainly makes the Walking Dead Combo Pack rumour a tad more likely: no doubt we should hear more about this pretty soon if true. As for Minecraft itself, there is no way to know if the release of Minecraft: Story Mode is a sign the game is indeed coming soon to Wii U or not.
Minecraft: Story Mode (Wii U eShop) is coming out this Fall. As all Telltale games, it will be released episodically.
Source: The Verge