Mario Tennis: Ultra Smash – Digital pre-order, filesize, screenshots
Update
We added a short video for Toadette: you will find it below!
***

Mario Tennis: Ultra Smash comes out in a little over two weeks (on November 20th), but digital pre-order is already available in North America (even though the full official website hasn't been launched yet):
If you pre-order the digital version of Mario Tennis: Ultra Smash, you will be able to download Mario Tennis: Ultra Smash right away. That way, the game will unlock at midnight, November 20th (ET) / 9PM, November 19th (PT) and you will get to play it as soon as possible without having to wait for it to download first. But in order to do so, you will need 888MB of free space on your Wii U or external HDD. The game costs $49.99.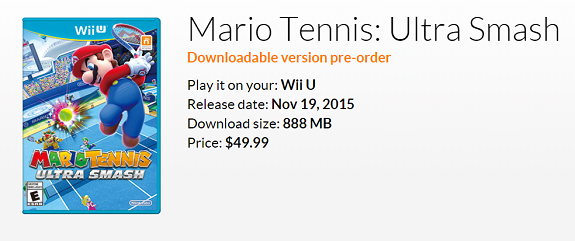 Next, here's the latest batch of screenshots for the game, which show the various characters (including Toadette):
Finally, here's a short video introducing Toadette:
https://www.youtube.com/watch?v=US0jO5Q-tCk
Mario Tennis: Ultra Smash (Wii U) comes out on November 20th in Europe and North America, and later this year in Japan.
Source: Nintendo / Siliconera
Thanks Kris Knigge for the screencap!