Mario & Luigi: Paper Jam Bros – Miiting interview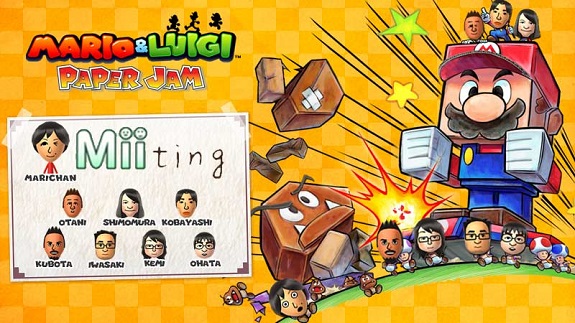 Yesterday, the English version of the latest Miiting ("live" interviews of developers on Miiverse) went live. As mentioned previously, it's for Mario & Luigi: Paper Jam Bros., which came out on December 3rd in Japan, December 4th in Europe, and January 22nd in North America. And this time around, there was a lot of guests:
Akira Otani (Producer, Nintendo)
Shunsuke Kobayashi (Director, AlphaDream)
Yoko Shimamura (Composer)
Jun Iwazaki (Battle Designer, AlphaDream)
Hiroyuki Kubota (Co-Director, AlphaDream)
Natsuko Kemi (Graphic Designer, AlphaDream)
The Miiting covers a wide range of topics, going from "Why a cross-over with the Paper Mario series", to how the developers went to nail down the "papery" feel, but also the challenges of having Paper Mario in the game, how they managed to create an engaging battle system, and more. Click here to check out the full interview!