Majora's Mask 3D: first update available (Ver. 1.1)
After some ramblings yesterday evening on EU Nintendo 3DS consoles, the first update for The Legend of Zelda: Majora's Mask 3D is now official, and available for download (at least, in Japan, as the patch doesn't seem to be live in the West just yet).
Here are the issues fixed by that patch:
1) the "ERROR" messages, forcing a reboot of the game;
2) the glitch with the sword after playing the Honey and Darling minigame; it previously allowed you to go swordless, and then to use pretty much any item (including the Fierce Deity mask) from anywhere in the game;
3) various stability fixes.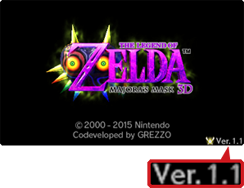 You can download this update from the Nintendo eShop, or directly from the Home menu of your Nintendo 3DS.
Source: Nintendo