Lost Reavers: online beta launched in Japan, artworks and details for the characters
Last week, we learned that Project Treasure (a Free to Start online action/co-op game) was now called Lost Reavers, and that an online beta would soon take place in Japan. Good news for Japanese players in search of some online co-op action with friends: the online beta is now available in Japan, until September 13th. If you own a Japanese Wii U and want to try out the game, you first need to download the demo from the Nintendo eShop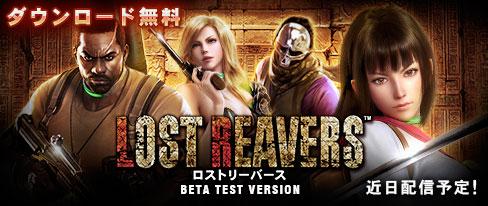 Here's an overview of the four playable characters from the online beta:
Sayuri: a balanced character, recommended for beginners. She can use her katana for close combat, but she can also rely on her pistols in order to put some distance between herself and the enemies.
Dwayne: a character focused on raw power. He can use an assault rifle to attack enemies (by pressing R, you can aim more precisely), and his rocket launcher is perfect to take out entire groups of enemies at once… just make sure your teammates are not caught in the blast!
Victoria: a character focused on the amount of damage per shot, rather than the amount of shots fired. Using her guns, she can spread death around her with deadly precision, but you need to pay attention to reloading times. This is a great character for players who want to play a role within their team.
Shadow Stalker: he can use both a sword and a shotgun at the same time, making him deadly at short range. With a special combo, he can even attack while reloading his shotgun. However, there's a catch: he's a rather tricky character to control, so he may not be recommended for beginners.
Here's artworks for these characters:
Lost Reavers (Wii U eShop) will come out on Wii U. The online beta is available in Japan until September 13th.
Source: Famitsu