Kirby Triple Deluxe: Shinya Kumazaki (Director) talks about the title
If you're a frequent users of Miiverse and a fan of Kirby, you're probably following the official HAL Laboratory account (manned by Satoshi Ishida). In the past few months, they have written lots of posts about the latest Kirby games on the Nintendo 3DS: Kirby Triple Deluxe, and DeDeDe's Drum Dash Deluxe / Kirby Fighters Deluxe.
And last week, to celebrate the 1st anniversary of Kirby Triple Deluxe in North America (it came out on May 2nd in 2014), Shinya Kumazaki (Director) posted another message, and revealed the origins of the title.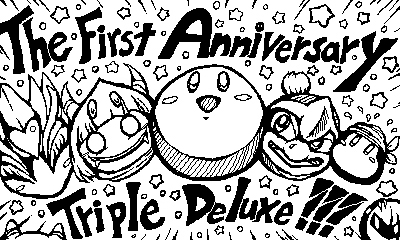 At first, they had two ideas:
– they tried to convey the fact that the game took place on various floating islands;
– they also thought about X, since Kirby Triple Deluxe is the 10th traditional Kirby game to come out.
But they also wanted to find a title that reflected the use of the 3DS features, such as the 3D visuals, the gyroscope and StreetPass. That's how they came up with 3DX… Triple Deluxe. It certainly fit with the Hyper Nova ability, which is more or less a "Super Deluxe" version of the basic Inhale ability. What's more, King DeDeDe (with his three "De"s) plays a major role in this game (the first time in a while!).
In other words, Triple Deluxe really was the perfect one title for this game!
Source: Miiverse