Japanese news (Sept. 3): Nintendo Badge Arcade / Culdcept Revolt / TGS 2016
Today's Japanese news: latest content update for the Nintendo Badge Arcade, but also…
Culdcept Revolt
Capcom @ Tokyo Game Show 2016
SEGA @ Tokyo Game Show 2016
Nintendo Badge Arcade
Yesterday, Nintendo added the following to the Nintendo Badge Arcade:
Kirby series: 9 new panels
Pokémon series: 4 new panels
Free plays every day until Sunday
Here's some screencaps, courtesy of JoeM86:
Source: Nintendo
Culdcept Revolt
Yesterday, Nintendo released a new update for Culdcept Revolt in Japan. It brings it to Ver. 1.2, and fixes a couple of issues found in the game. The update is required to use the online features, but be warned: you will not be able to play with players using Ver. 1.0 or Ver 1.1 after updating, even via local wireless.
This update requires 20 blocks / 1.5MB of free space on your SD Card. To download it, you have several options:
launch Culdcept Revolt from the Home Menu, while being connected to the internet: you should get a prompt when doing so. Just follow the instructions on screen;
search for Culdcept Revolt on the Nintendo eShop;
use the option in the Nintendo eShop settings.
To check that you have the latest version installed, launch Culdcept Revolt: you should see Ver. 1.2 in the top left corner of the bottom screen, in the main menu.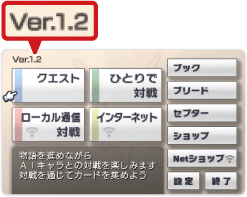 Source: Nintendo
Capcom @ Tokyo Game Show 2016
Here's the updated line-up for Capcom at the Tokyo Game Show 2016
Monster Hunter Stories (Nintendo 3DS): playable, stage presentation, livestream
Megami Meguri (Nintendo 3DS): playable, stage presentation, livestream
Source: Capcom
SEGA @ Tokyo Game Show 2016
Here's the line-up for SEGA at the Tokyo Game Show 2016:
Puyo Puyo Chronicle (Nintendo 3DS): playable, trailer, stage presentation, merchandise
Source: SEGA