Japan: Nintendo eShop prepaid card for Nintendo Badge Center
Launched in December 2014 in Japan, and last month in Europe and North America, Nintendo Badge Arcade allows you to play at various crane game machines. Your goal is to get stickers, to use on the Home Menu of your Nintendo 3DS and decorate it. You have to pay in order to play, but Nintendo frequently gives free plays (and you can get some by playing on the training machine, once a day).
To buy plays, you add money to your Nintendo eShop account. And with the special Nintendo eShop pre-paid cards, released on Monday in Japan, you will be able to get even more plays. Indeed, this card not only allows you to add 1 000 Yen to your Nintendo eShop account (allowing you to buy 11 plays, if you want), it also comes with a download code for 5 free plays in Nintendo Badge Arcade.
In other words, by buying this card, you basically get 1 090 Yen (5 plays cost 90 Yen in the Japanese version of Nintendo Badge Arcade). It's available at the various Lawson stores across Japan.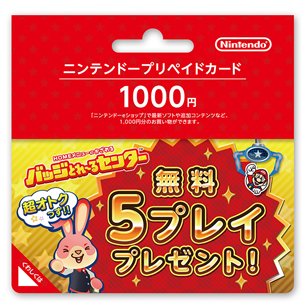 Source: Nintendo