Japan – Media Create sales for Week 32, 2015 (August 3 – 9) [Top 50]
With Obon just around the corner (August 15th), and the usual vacations that go with it, it's not surprising that the various Nintendo 3DS and Wii U titles in the Top 20 performed pretty well during Week 32. Unsurprisingly, Animal Crossing: Happy Home Designer is still n°1 with 181 377 units sold: this is a 60% drop, which is much better than the usual second week drop.
Since launch, the game has sold over 703 933 units at retail, and it wouldn't be surprising for it to reach 1 million before the end of the month: Animal Crossing: Happy Home Designer is bound to be popular during the Obon week, so 300 000 units in 3 weeks definitely not out of reach for this spin-off (especially if you add the digital sales).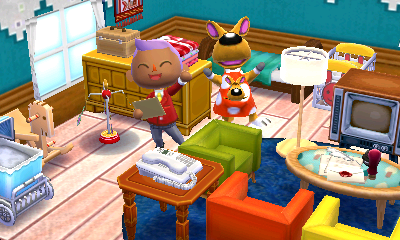 This week, only two games came out on Nintendo 3DS (and none on Wii U, as Devil's Third is an Amazon-exclusive), and they both had very "moderate" sales:
– Nobunaga's Ambition 2: 4 552 units sold;
– Romance of the Three Kingdoms 2: 3 433 units sold.

Since both are ports/remakes of previous ports/remakes from the Nintendo DS, there's no doubt Koei-Tecmo didn't have very high expectations for them.
And due to the ongoing school holidays and the upcoming Obon week, sales for various games on Nintendo platformers were pretty good during this Week 32. Splatoon (+26%), Rhythm Heaven: The Best+ (+31%),  Mario Kart 8 (+4%) and Animal Crossing: New Leaf (+1%) all saw their sales rising. Other titles, such as Pokémon Omega Ruby / Alpha Sapphire or Fire Emblem Fates: Birthright and Conquest were either stable or slighly down week on week.
Hardware-wise, the Nintendo 3DS is (logically) down week on week, as during Week 31, sales were boosted by the release of Animal Crossing: Happy Home Designer and the New Nintendo 3DS XL bundle. With 39 008 units sold, the portable is still dominating the market as a whole, but as expected, sales are back below their 2014 level (39 008 vs 41 045).
As for the Wii U, it's actually up week on week with 13 007 units sold (thanks to Splatoon and the holidays). Unfortunately, it's back below its level in 2014, though it's not clear how long it's going to remain there: it all depends on how many users can still be attracted thanks to Splatoon, which has been singlehandedly supporting Wii U sales since late May.
Software
01./01. [3DS] Animal Crossing: Happy Home Designer # <ETC> (Nintendo) {2015.07.30} (¥4.320) – 181.377 / 703.933 (-65%)
02./02. [3DS] Yo-Kai Watch Busters: Red Cat Team / White Dog Squad <ACT> (Level 5) {2015.07.11} (¥4.968) – 84.939 / 1.202.789 (-21%)
03./04. [WIU] Splatoon <ACT> (Nintendo) {2015.05.28} (¥6.156) – 35.620 / 519.034 (+26%)
04./05. [3DS] Rhythm Heaven: The Best+ <ACT> (Nintendo) {2015.06.11} (¥5.076) – 18.852 / 392.837 (+31%)
05./00. [PSV] Luminous Arc: Infinity <SLG> (Marvelous) {2015.08.06} (¥7.344) – 16.217 / NEW
06./10. [PSV] Minecraft: PlayStation Vita Edition <ADV> (Sony Computer Entertainment) {2015.03.19} (¥2.592) – 8.100 / 280.140 (-5%)
07./08. [3DS] Fire Emblem Fates: Birthright / Conquest <SLG> (Nintendo) {2015.06.25} (¥5.076) – 7.916 / 396.710 (-28%)
08./13. [WIU] Mario Kart 8 # <RCE> (Nintendo) {2014.05.29} (¥6.156) – 7.256 / 1.088.732 (+4%)
09./16. [3DS] Animal Crossing: New Leaf # <ETC> (Nintendo) {2012.11.08} (¥4.800) – 6.098 / 4.019.151 (+1%)
10./03. [PSV] IA/VT: Colorful # <ACT> (Marvelous) {2015.07.30} (¥5.184) – 5.902 / 44.783 (-85%)
11./07. [PS3] Sengoku Basara 4: Sumeragi # <ACT> (Capcom) {2015.07.23} (¥6.469) – 5.839 / 76.757 (-51%)
12./00. [PSV] Gal Gun: Double Peace # <ACT> (Alchemist) {2015.08.06} (¥7.344) – 5.792 / NEW
13./00. [PS4] Gal Gun: Double Peace # <ACT> (Alchemist) {2015.08.06} (¥8.424) – 5.020 / NEW
14./12. [WIU] Yoshi's Woolly World # <ACT> (Nintendo) {2015.07.16} (¥6.156) – 4.913 / 54.980 (-36%)
15./11. [PSV] Taiko no Tatsujin: V Version <ACT> (Bandai Namco Games) {2015.07.09} (¥6.145) – 4.879 / 79.302 (-35%)
16./15. [3DS] Great Phoenix Wright: Ace Attorney – Naruhodou Ryuunosuke no Bouken # <ADV> (Capcom) {2015.07.09} (¥6.264) – 4.554 / 179.804 (-25%)
17./00. [3DS] Nobunaga's Ambition 2 # <SLG> (Koei Tecmo) {2015.08.06} (¥5.184) – 4.552 / NEW
18./22. [3DS] Pokemon Omega Ruby / Alpha Sapphire <RPG> (Pokemon Co.) {2014.11.21} (¥4.937) – 4.486 / 2.677.443 (-1%)
19./23. [3DS] Super Run For Money Tousouchuu Atsumare! Saikyou no Tousou Monotachi <ACT> (Bandai Namco Games) {2015.07.09} (¥5.119) – 3.729 / 33.289 (-13%)
20./00. [3DS] Romance of the Three Kingdoms 2 <SLG> (Koei Tecmo) {2015.08.06} (¥5.184) – 3.433 / NEW
21./19. [PSV] Makai Shin Trillion # <RPG> (Compile Heart) {2015.07.23} (¥7.344)
22./17. [PS4] Batman: Arkham Knight <ADV> (Warner Entertainment Japan) {2015.07.16} (¥8.208)
23./26. [3DS] Super Smash Bros. for Nintendo 3DS <FTG> (Nintendo) {2014.09.13} (¥5.616)
24./28. [3DS] Style Savvy 3: Kira Kira Coord <ETC> (Nintendo) {2015.04.16} (¥5.076)
25./27. [3DS] Puzzle & Dragons: Super Mario Bros. Edition <RPG> (GungHo Online Entertainment) {2015.04.29} (¥4.320)
26./18. [PS4] Sengoku Basara 4: Sumeragi # <ACT> (Capcom) {2015.07.23} (¥7.549)
27./30. [PS4] The Witcher 3: Wild Hunt <RPG> (Spike Chunsoft) {2015.05.21} (¥8.856)
28./37. [3DS] Monster Hunter 4 Ultimate [1/1][Best Price!] <ACT> (Capcom) {2015.07.30} (¥3.769)
29./31. [WIU] Super Smash Bros. for Wii U # <FTG> (Nintendo) {2014.12.06} (¥7.776)
30./34. [3DS] Dragon Ball Z: Extreme Butoden <FTG> (Bandai Namco Games) {2015.06.11} (¥6.145)
31./06. [PSV] Date-A-Live Twin Edition: Rio Reincarnation <Date A Live: Rine Utopia Date A Live: Ars Install> # <ADV> (Compile Heart) {2015.07.30} (¥7.344)
32./38. [3DS] Mario Kart 7 <RCE> (Nintendo) {2011.12.01} (¥4.800)
33./40. [3DS] Dragon Ball Heroes: Ultimate Mission 2 <TBL> (Bandai Namco Games) {2014.08.07} (¥6.145)
34./09. [PSV] Ray Gigant <RPG> (Bandai Namco Games) {2015.07.30} (¥6.664)
35./14. [3DS] Corpse Party: Blood Covered – Repeated Fear # <ADV> (5pb.) {2015.07.30} (¥6.264)
36./39. [PS4] Earth Defense Force 4.1: The Shadow of New Despair <ACT> (D3 Publisher) {2015.04.02} (¥7.538)
37./36. [3DS] Monster Hunter 4 Ultimate # <ACT> (Capcom) {2014.10.11} (¥6.264)
38./00. [3DS] Nobunaga's Ambition 2 & Romance of the Three Kingdoms 2 Twin Pack {Nobunaga's Ambition 2 Romance of the Three Kingdoms 2} <SLG> (Koei Tecmo) (¥9.504)
39./21. [PSV] Fushigi no Chronicle: Furikaerimasen Katsu Madewa <RPG> (Spike Chunsoft) {2015.07.30} (¥3.758)
40./44. [WIU] Mario Party 10 # <ETC> (Nintendo) {2015.03.12} (¥5.616)
41./33. [PSV] God Eater 2: Rage Burst <ACT> (Bandai Namco Games) {2015.02.19} (¥6.145)
42./43. [3DS] Yo-kai Watch 2: Shin Uchi <RPG> (Level 5) {2014.12.13} (¥4.968)
43./42. [3DS] Hoppechan: Punitto Shibotte Daibouken! <ACT> (Nippon Columbia) {2015.07.23} (¥5.184)
44./00. [XB1] Rare Replay <ETC> (Microsoft) {2015.08.06} (¥3.240)
45./47. [3DS] Dragon Quest VII: Warriors of Eden [1/1][Ultimate Hits] <RPG> (Square Enix) {2015.04.16} (¥3.024)
46./24. [PS4] F1 2015 <RCE> (Ubisoft) {2015.07.30} (¥8.618)
47./00. [3DS] Kirby Triple Deluxe <ACT> (Nintendo) {2014.01.11} (¥4.800)
48./00. [PSV] Pro Baseball Spirits 2015 <SPT> (Konami) {2015.03.26} (¥7.538)
49./00. [3DS] Tomodachi Life # <ETC> (Nintendo) {2013.04.18} (¥4.800)
50./00. [3DS] Taiko no Tatsujin: Don to Katsu no Jikuu Daibouken <ACT> (Bandai Namco Games) {2014.06.26} (¥5.119)
Amount of games per platform
3DS – 26
PSV – 11
PS4 – 6
WIU – 5
PS3 – 1
XB1 – 1
Hardware
Source: Media Create
Via: 4Gamer.net / NeoGAF