Investor Briefing (Jan. 2017): Kimishima on Nintendo 3DS sales, more
During the usual meeting with investors, which always follows the presentation of the latest financial results, Nintendo talked about Nintendo 3DS sales.
First, a graph with Hardware and Software sell-through for the current Fiscal Year in Japan was shown: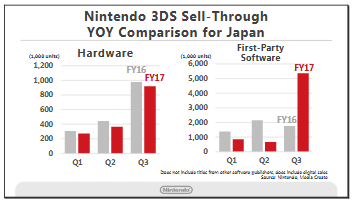 During the first two quarters, sales were down for both Software and Hardware, and unfortunately, they also ended up down Year on Year for Hardware. But for First-Party Software, they ended up well above Q3 2015-16 levels (almost 3 times higher). Naturally, Pokémon Sun and Moon and Super Mario Maker for the Nintendo 3DS were the two titles driving sales.
Speaking of Super Mario Maker for Nintendo 3DS, Nintendo mentions that it's been selling pretty well in Japan, where it should reach 1 million units sold pretty soon. It has already sold more than the Wii U version (launch aligned, not LTD), which was released in September 2015. For Nintendo, this shows that they were able to attract players who own a Nintendo 3DS, but not a Wii U (and the "the size of the latent Nintendo 3DS market").
Super Mario Maker for Nintendo 3DS is also off to a great start in Europe and North America, too.
Next, a graph with Hardware and Software sell-through for the current Fiscal Year in the United States was shown: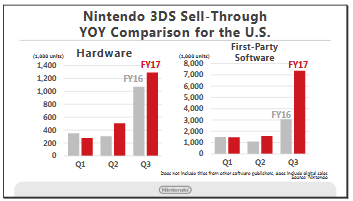 Unlike in Japan, it's only for Hardware and Q1 that sales were down Year on Year in the United States. For all the other quarters, sales were up Year on Year, with a massive increase for Software in Q3 (thanks to Pokémon Sun and Moon, obviously). Quite impressive for the console's third holiday season!
For Nintendo, the increase in sales is due to various factors. The first one is promotional activities aimed at children and parents, which were apparently effective. Thanks to Pokémon Sun and Moon, the company was also able to "assert brand presence" during Black Friday and the holiday season. As for the major titles, they drove Hardware sales, as seen in the graph above.
Next, a graph with Hardware and Software sell-through for the current Fiscal Year in the Europe was shown: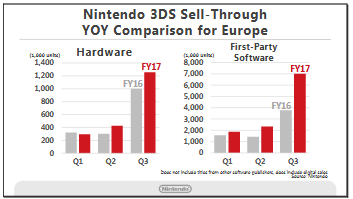 In Europe, sales followed a similar trajectory than in the United States, with only Hardware sales for Q1 down Year on Year. Naturally, Pokémon Sun and Moon was a major driver of sales for both Software and Hardware, but that's not all. Nintendo also promoted titles aimed at kids and women: this "new" group of players went on to purchase new and evergreen titles, further driving sales.
Next, a graph comparing Yo-kai Watch sales in Europe and Japan was shown: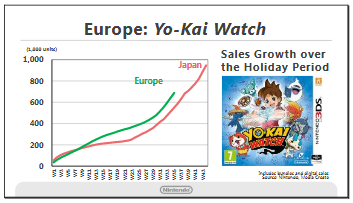 We can clearly see that sales remained strong throughOUt the holiday season, still ahead of sales in Japan. It looks like Yo-kai Watch was a really popular gift AMONG kids, with many of them hoping to get it at Christmas. Since the anime series will debut in more regions soon, Nintendo expects further growth in sales in the future.
Next, a graph with the share of sales for the Nintendo 2DS was shown: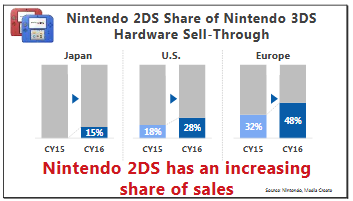 Since the Nintendo 2DS is by far the most affordable Nintendo 3DS model, it's not surprising that its share of sales has been increasing. According to Nintendo, it's the very video game console for many kids. Naturally, the price drop in North America (in May) had a positive impact on sales: in fact, the increase in sales even exceeded Nintendo's expectations.
Nintendo explains that the Nintendo 2DS allowed them to appeal to a (larger) range of consumers, such as women and kids, allowing them to "achieve definite sales drive in these demographics" (helped by the low price point).
And speaking of kids / women, Nintendo believe that their efforts have paid off, with renewed momentum for Hardware sales. Obviously, Pokémon Sun and Moon further increased sales. This shows that compelling games can continue to drive Hardware sales, even for a platform soon approching its 7th year on the market.
That being said, Nintendo is aware that not all games had sales as satisfactory as Pokémon Sun and Moon, which is why they're going to focus on convincing new users to purchase a second and third game
Worldwide, the Nintendo 3DS has now sold over 62 million units, and naturally, Nintendo plans to take advantage of that massive userbase. It's for that reason that they will keep releasing new titles throughout 2017.
Here's a slide showing the various games Nintendo is planning to release: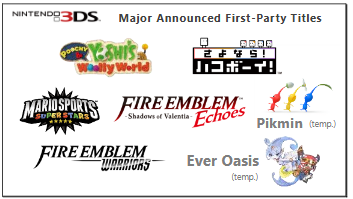 Quite interestingly, Nintendo also mentions "many other unannounced titles" currently in development for the Nintendo 3DS. As far as third-party developers go, Nintendo is focusing on two key titles:
Monster Hunter XX, releasing on March 18th;
Dragon Quest XI: Sugisarishi Toki o Motomete, releasing this year.
With the "many other unannounced [first-party] titles" and the "many other games" from third-party developers, Nintendo believe they will be able to "maintain last year's momentum" with the Nintendo 3DS. It certainly looks like the handheld isn't quite ready for retirement!
Finally, Nintendo further reiterate that the Nintendo Switch is not replacing the Nintendo 3DS.
They explain that while both consoles allows players to play outside the home, the Nintendo 3DS has "unique characteristics" not found in the Nintendo Switch, and a significantly lower price point. Basically, both consoles offer different play experiences, and so Nintendo is planning to support both in parallel (most likely not beyond 2018, though).
Source: Nintendo