Investor Briefing (Apr. 2017): Kimishima on Switch outlook for the new Fiscal Year, upcoming games
During the latest meeting with investors, on April 28th, Tatsumi Kimishima talked at great lengths about the Nintendo Switch, and more precisely its outlook for the new Fiscal Year.
As mentioned on Wednesday, Nintendo is planning to ship 10 million units between April 1st and March 31st: that would bring the total to 12.7 million units since launch. During the next 11 months, Nintendo's goal will be to capitalise on the console's momentum and broadent the installed base.
For Tatsumi Kimishima, it's crucial that the company maintain buzz around its new console. That's why new titles will be released at a regular pace, and the focus will be put on "exciting social multiplayer" titles. Of course, Nintendo is also planning to work with third-party publishers to create multiple hit titles early.
Here's the various first-party titles already released and announced: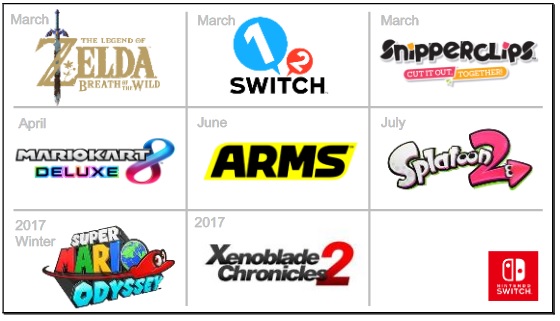 Tatsumi Kimishima did mention the two set of DLC for The Legend of Zelda: Breath of the Wild, releasing this Summer and this Winter. He expects that it will lead to even more consumers playing on Nintendo Switch.
About the "exciting social multiplayer" titles mentioned, they're meant to ensure players keep playing on the long term. They obviously can be played in Single Player, but their main appeal lies in their competitive multiplayer action.
Those games are:
Mario Kart 8 Deluxe: Tatsumi Kimishima revealed that pre-orders for that game were "promising" (and indeed they were: over 459 000 units sold on launch day in the United States alone!). He mentioned the improved Battle Mode, and the fact that with the two Joy-Cons, players can start playing anytime, anywhere, with anyone, without any additional equipment (extra controler, TV, etc.);
ARMS (releasing on June 16th worldwide), a new type of fighting game with (optional) motion controls. Said controls are pretty intuitive, allowing players to enjoy the "rich strategies and techniques" the game has to offer. Players can fight in 1 vs 1, or 2 vs 2;
Splatoon 2 (releasing on July 21st worldwide): Nintendo expects the local multiplayer mode, where players can bring their own system and play together, to really make the difference and "generate a new gameplay scene".
Nintendo hope that those three titles (the first ones!) will lead to "continued play", and "encourage exciting social competitive gameplay" thoughout Summer, in order to accelerate momentum into the holiday season.
The reason those "exciting social competitive gaming" experiences are possible is because the Nintendo Switch is basically a portable home gaming system. Players can play with other players online, at home, and then take their console with them in order to start local wireless matches anywhere. And since the console comes with two controllers right out of the box, you don't need anything else to start playing.
Naturally, all three titles mentioned above offer both local and online multiplayer.
But it's not just first-party titles: there are also upcoming third-party titles that will provide "exciting social multiplayer" such as NBA2K 18 and FIFA. Speaking of third-party, here's a selection of titles to be released this year: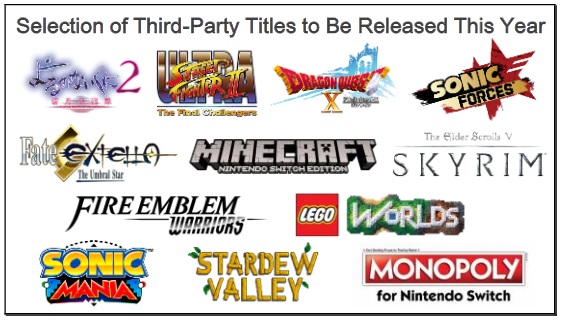 NB: Fire Emblem Warriors is developed and published by Koei-Tecmo in Japan, which is why it's listed as a third-party title.
Of course, Tatsumi Kimishima didn't forget to mention the many indie games coming to Nintendo Switch, though those are not really system-sellers. He also made a note about third-party publishers' interest for the unique features of the console, and truly believes the ability to play games anywhere, anytime, is going to be pretty appealing for many third-party titles.
With third-party publishers, Nintendo will be able to reach a broader audience than on their own. It's for this very reason that the company is putting a lot of focus on the establishment of a "collaborative framework" to facilitate the creation of many successful third-party titles right from the start. In other words: the Nintendo Switch needs third-party publishers to be truly successful, and reach its full (sales) potential.
Source: Nintendo