Game Party Japan: attendance numbers for 2016, dates for 2017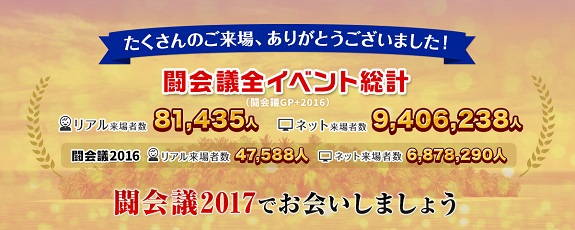 The Nico Nico Toukaigi (Game Party Japan) took place last week-end in Japan, on January 30th and January 31st. It's during that event that Nintendo held the very first live concert for the Squid Sisters, that Hisashi Nogami made a speech during the Splatoon Koshien finals, and that Bandai-Namco revealed the trailer for Chandelure in Pokkén Tournament.
Yesterday, Dwango revealed the attendance numbers for the Nico Nico Toukaigi, and they're actually pretty good: more people came to the Makuhari Messe, and more people watched the various events on NicoNico.
Here's the attendance numbers:
Toukaigi (global)
81 435 visitors at the various venues
9 406 238 viewers on NicoNico
Toukaigi (Game Party Japan)
47 588 visitors at the Makuhari Messe (35 786 in 2015)
6 870 290 viewers on NicoNico  (5 746 338 in 2015)
Toukaigi GP (nationwide series of eSports events, taking place between September and January. The Splatoon Koshien 2016 was part of this)
33 847 visitors at the various venues
2 527 948 viewers on NicoNico
With such good results, it's no wonder Dwango immediately confirmed that the NicoNico Toukagi / Game Party Japan would also take place in 2017. However, it will be slightly later than in 2015 and 2016, on February 11th and February 12th. Unfortunately, we don't know if Nintendo will have another Splatoon Koshien tournament next year.
Source: 4Gamer.net