[Europe] Nintendo Selects: 5 additional Nintendo 3DS titles releasing on June 24th
In the past few months, Nintendo has added quite a few Wii U and Nintendo 3DS games to its Nintendo Selects range. This is pretty good news for players who just recently bought a Nintendo 3DS and/or Wii U and want great games to play on the cheap, or those who want to discover games they may have missed, without breaking the bank.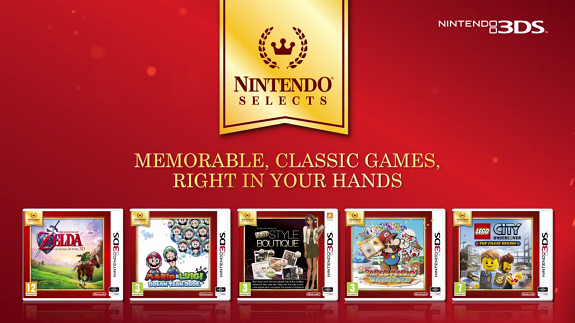 And today, Nintendo announced that there would be another wave of Nintendo Selects titles in Europe on June 24th. There will be 5 titles this time around, and they're all on Nintendo 3DS. According to Nintendo, they have a sold over 3 millions units (combined) since launch. They will cost €19,99 / £15.99 / CHF 24.90 / RUB1159 / ZAR 239 at retail and on the Nintendo eShop.
The 5 Nintendo 3DS titles to be added to the Nintendo Selects range are:
The Legend of Zelda: Ocarina of Time 3D
Mario & Luigi: Dream Team Bros.
Nintendo Presents: New Style Boutique
Paper Mario: Sticker Star
LEGO City Undercover: The Chase Begins
Here's a promotional video showcasing those five Nintendo 3DS titles:
Here's the covers for the Nintendo Selects edition of those Nintendo 3DS titles:
This new wave of Nintendo Selects titles will be released on June 24th in Europe, just in time for the Summer holidays. Our Upcoming Releases page will be updated shortly!
Source: Nintendo PR