[Europe] Cyber Deals on the Nintendo eShop (November 27 – 30) [Day 4]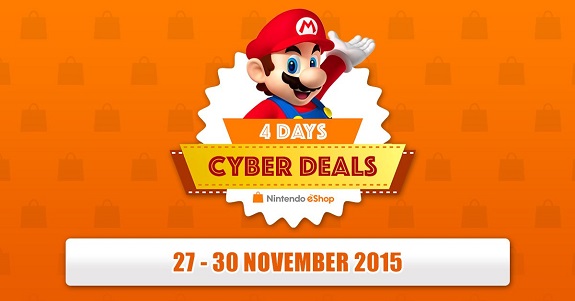 To "celebrate" Black Friday (this Friday in the United States), Nintendo of Europe is going to have some Cyber Deals on the Nintendo eShop. From November 27 to November 30th (Friday to Monday), there will be daily deals on several Nintendo games on Wii U and Nintendo 3DS. Nintendo promises discounts up to 40%.
Unfortunately, Nintendo didn't specify which games would be on sale, just that it will be "popular Nintendo games" (excluding third-party titles). It looks like the list of titles on sales will be revealed on the very day they go on sale. Therefore, we will update this post each day with the full list of sales!
Friday
Super Mario 3D World (Wii U): 35,99 € / £29.99
The Wonderful 101 (Wii U): 29,99 € / £23.99
Super Mario 3D Land (Nintendo 3DS): 26,99€ / £23.99
Puzzle & Dragons Z + Puzzle & Dragons Super Mario Bros. Edition (Nintendo 3DS): 17,99€ / £14.99
Saturday
Donkey Kong Country: Tropical Freeze (Wii U): 29.99€ / £20.99
Pikmin 3 (Wii U): 29.99€ / £20.99
Donkey Kong Country Returns 3D (Nintendo 3DS): 23.99€ / £20.99
Ultimate NES Remix (Nintendo 3DS): 23.99€ / £20.99
Sunday
Kirby and the Rainbow Curse (Wii U): 27,99€ / £24.99
Game & Wario (Wii U): 23,99€ / £20.99
Kirby Triple Deluxe (Nintendo 3DS): 27,99€
Code Name STEAM: 23,99€ / £20.99
Monday
Xenoblade Chronicles (Wii U): 9,99€
Bayonetta 2 (Wii U): 29,99€ / £20.99
Xenoblade Chronicles 3D (New Nintendo 3DS): 26,99€
Kid Icarus Uprising (Nintendo 3DS): 19,99€
Source: Nintendo