DBZ Extreme Butoden: Super Butoden only available via Amazon in North America; video
Last week, Bandai-Namco revealed a trailer and some new details for Dragon Ball Z: Extreme Butoden. They announced that Europe would get a New Nintendo 3DS pack, as well as various first-print bonuses. In North America, there will not be any New Nintendo 3DS (for obvious reasons), but the first-print bonuses are the same:
– early access to 6 support characters (Kid Goku, Garlic Jr., Super Vegito, Meta-Cooler, Baby Goku and Kid Gohan)
– Dragon Ball Z: Super Butoden 2 (digital, only in Japanese)
There's one difference though… Dragon Ball Z: Super Butoden 2 will only be available via Amazon.com, unlike Europe where it will be available through all retailers (though we don't know if players buying it via the Nintendo eShop will also get it).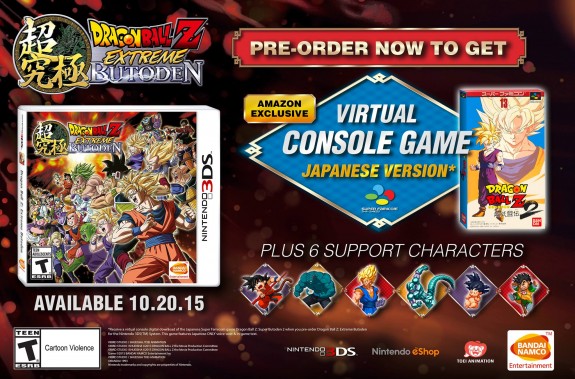 Finally, here's the latest promotional video for the game, from Japan:
Dragon Ball Z: Extreme Butoden (3DS) comes out on October 16th in Europe, and October 20th in North America.
Source: Bandai-Namco
Via: Kazenshuu