Captain Toad – Treasure Tracker: trailer for the Hidden Toad challenges (amiibo)
Europe and North America won't get the Super Mario Bros. series of amiibo until March 20th, but in Japan, they came out today (along with Mario Party 10). That means that Japanese players can already discover the bonus challenges the Toad amiibo unlocks in Captain Toad: Treasure Tracker.
By scanning the amiibo, you can unlock 60 Hidden Toad challenges, which take place in the various levels of the game. The goal of said challenges is to find a secret 8-bit Toad, which is hidden somewhere in each level. This is some fun and rather neat bonus content for the game, which already got a great amount of challenges (3 gems, secret in the levels, speedrun).
Earlier this morning, Nintendo uploaded a short trailer, which shows the Hidden Toad challenges in Captain Toad – Treasure Tracker:
It also mentions the bundle with Captain Toad: Treasure Tracker + a Toad amiibo (sold 4700 Yen + taxes, ~ 36€ / 25£ / 38$), coming out on March 26th in Japan, and which was already announced during the Japanese Nintendo Direct in January.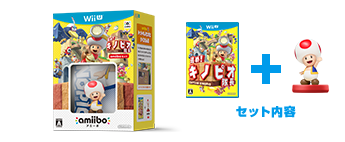 The Toad amiibo (along with the first batch of the Super Mario series amiibo) come out on March 20th in Europe and North America.
Source: Nintendo