Affordable Space Adventures: Origin Story content update out this week in Europe and North America
Update
KnapNok Games confirmed this morning that the free update for Affordable Space Adventures would also be available on Thursday in North America. However, we don't know if the sale (celebrating the launch of this update) will also start on the same day or not.
***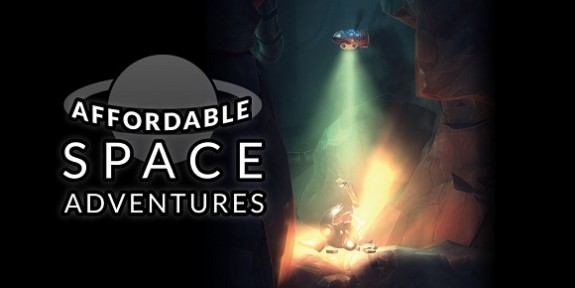 This summer, the developers revealed that Affordable Space Adventures would soon get some new content, for free. This morning, KnapNok Games sent a press release to announce it would be available this week, in Europe. This content update will add Origin Story: 5 brand-new levels, which are said to be the hardest ones in the game.
To beat those, players will have to do more than simply rely on their skills: thinking outside the box and using the Small Craft systems in new ways will be key. The Origin Story levels will be available from the difficulty select screen, and are recommended only to players who managed to complete the main story.
Nicklas Nygren (Game Director) explains that the team had plenty of ideas for levels, but that it was too hard to implement some of them in the main story. With Origin Story, they can now introduce some of these concepts to players who already beat the game.
Origin Story will be part of a major update, considered a "Remaster" by the developers. It will bring "several fixes and improvements based upon players' feedback via social media and the Affordable Space Adventures Miiverse™ community."
Here's what Dajana Dimovska (CEO of KnapNok Games) had to say about this update:
We'd like to reward fans of Affordable Space Adventures with additional content for free. We heard a lot of people asking for more levels, so our hope is that this update will keep the game alive for them. Likewise, we expect new players to pick up the game after this update and enjoy taking it for a spin.
Since this is a free update, all you have to do in order to download it (on Thursday!) is:
let the Wii U do its thing if you have automatic downloads activated. You should have the latest version the next time you turn of your console.
launch Affordable Space Adventures from the Home Menu (not the Quick Start menu!), in order to trigger the download manually.
To celebrate the launch of this update, the game will be on sale starting this Thursday (same day as the update): it will only cost €15.00 / £13.50 (instead of €18.99/£16.99), until November 26th.
Unfortunately, both the update and the sale will come to North America at a later date.
Source: KnapNok Games PR