3D Puyo Puyo Tsu: details about the changes and new features, screenshots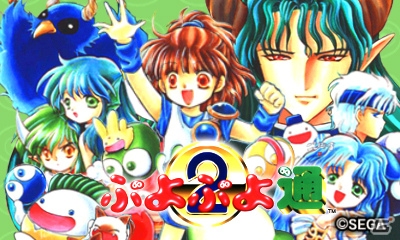 On Friday, SEGA opened the official website for 3D Puyo Puyo Tsu (included in the SEGA 3D Classics Archives 2 collection, announced a few weeks ago). This allows us to get some details about the game, and more precisely the changes and new features of this SEGA 3D Classics title.
First, SEGA confirms that 3D Puyo Puyo Tsu is based on the Arcade game, and not one of the ports that came out later. The game will be playable in multiplayer, with two players, via local wireless. Unfortunately, it will not be compatible with Download Play, which means that each player will need their own console and copy of the game.
The developers added the usual features of a SEGA 3D Classics:
3D visuals (obviously!)
you can now save at any time, and there's also a quick save feature (allowing you to quickly start playing where you left off last time, even in the middle of a match)
additional difficulty level: there's now 5 of them, including Very Easy (which wasn't available in the original)
Next, there's Sousai (Garbage countering): this refers to the multiplayer, where you can send your "garbage" puyo to the other player (in order to hinder their progress), when you make combo chains. If you activate Sousai, you can negate your opponent's garbage by making a combo while it's still falling. Regarding garbage, the amount that falls down changes after some time: you can set the Margin time to whatever you want.
The developers also changed the rules for Single Player and Multiplayer:
Single Player: the type of garbages falling down changes per match
Multiplayer: you can now set  the number of matches necessary to win
The developers also added some rather neat options: there's now a Replay feature (you can only record one match), and you can chose whether the puyo turns left or right.
Finally, here's some details about music/sound:
the equalizer lets you change the game / voices volume.
you can listen to the game's music, which includes some unused tracks.
Here's some screenshots for 3D Puyo Puyo Tsu:
SEGA 3D Classics Archives 2 (3DS) comes out on December 23rd in Japan.
Source: SEGA / Gamer.ne.jp
Thanks Ash for the help with translation!