Star Fox Zero: more gameplay footage, Falco amiibo unlock, minor details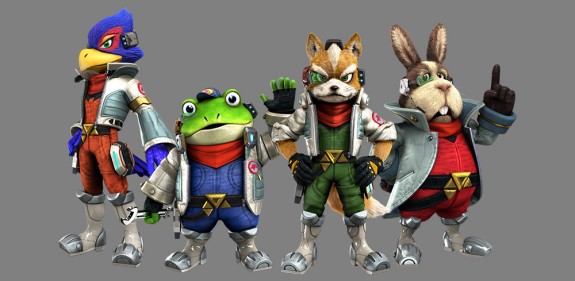 Yesterday evening, Star Fox Zero was showcased during a livestream on YouTube. You can find the full recording just below, but before that, some interesting details to be found in the livestream. First, we finally know what the Falco amiibo unlocks in the game: a Black Arwing. It allows you to lock on two enemies at once…. but you also take three times as much damage as with the regular Arwing.
It's most likely what Shigeru Miyamoto was referring to in the TIME interview. Right now, it's not clear whether the Black Arwing can be unlocked via regular means (without the Falco amiibo) or not. It's possible it can be unlocked by first beating the game or getting a certain amount of medals, and the amiibo would then allow players to unlock it right away.
Based on this, we can assume the "Invicible" mode also mentioned by Shigeru Miyamoto in the interview is available if you die a certain amount of times in a level. Obviously, we will have to wait for Nintendo to make a proper announcement regarding those unlocks.
Another detail to be found in the livestream: there's several medals to be found in the levels. Some of them seem pretty well hidden, and it looks like you cannot get all of them within a single playthrough: you will have to play a level several times in order to get them all (some of them are hidden in alternate paths).
Finally, here's what the main menu looks like:
Main Game
Training
Prologue
Arcade Mode (most likely a score-attack mode, without any cutscenes or tutorials)
Here's the livestream recording:
https://youtu.be/dt6WXVUim8I
Star Fox Zero (Wii U) comes out on April 21st in Japan, and April 22nd in Europe and North America.
Source: AbdallahSmash026