Mario & Sonic at the Rio 2016 Olympics Arcade Edition: more details and some pics
As announced yesterday, Mario & Sonic at the Rio 2016 Olympics is getting an arcade release in Japan. Today, the locatests for the game started in two Game Centers operated by SEGA, and 4Gamer.net actually went to check it out. Thanks to them, we now have some proper details and some pictures!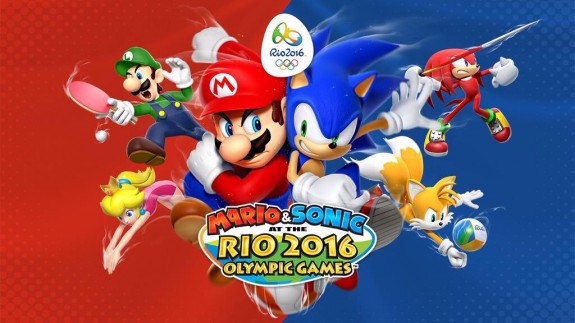 First, we have a list of characters playable in this locatest version of the game:
– Mario
– Luigi
– Peach
– Wario
– Sonic
– Tails
– Knuckles
– Shadow
There's three types of characters, with stats focused on Power, Speed and Technique. Of course, there's also balanced characters, such as Mario (while Sonic is, quite obviously, focused on speed). There's four different sports playable: 100 metres, Hammer Throw, Javelin Throw, Archery. Of course, there will be more playable characters and sports in the final version of the game (both retail and arcade).
One credit costs 200 Yen, and allows to play 3 sports, with results announced at the end of the 3 events. It's possible to play with another player in local multiplayer (up to four in the retail retail version), and if the sports picked up are not the same, the game will pick some at random.
For the controls, players have to use:
– their feet, for the events where they need to run;
– two big joysticks, with a button on the side (which also serves as a Start button);
– a handrail, to use in order to keep your balance (while running, for example).
4Gamer.net also has some details about gameplay:
– 100 metres: you use the stick to "launch yourself" at the start, before starting to run. At the end, you have to time a jump.
– Hammer Throw: you have to press the button to hold the hammer, use the sticks to make the hammer rotate, and then you stop pressing the button at the right time to make your throw.
– Javelin Throw: you start by running, then use the right stick to control the angle of your throw.
– Archery: you have to throw arrows at nine targets, with more points awarded if they hit closer to the center. You use the left stick in order to aim, and the right stick in order to use the bow and shoot arrows. The amount of time you spend drawing your bow, as well as weather conditions such as the wind, can have an impact on the trajectory of your arrows.
Here's some pictures of the Mario & Sonic at the Rio 2016 Olympics Arcade Edition locatest in SEGA Club (Akihabara):
Mario & Sonic at the Rio 2016 Olympics (Wii U / 3DS) will be launched in 2016, worldwide. SEGA didn't give any date for the arcade version.
Source: 4Gamer.net