Fire Emblem Heroes: latest events and content updates (January 2018)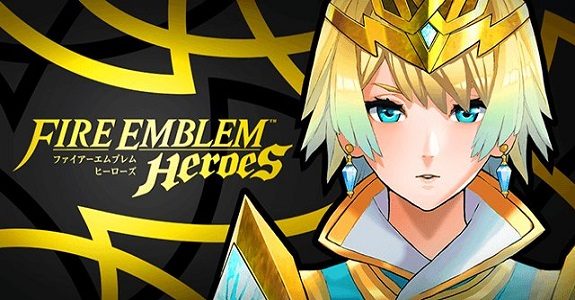 On February 2nd 2017, Nintendo launched Fire Emblem Heroes on Android and iOS (click here to check out everything you need to know about it). Just like all Free 2 Play games worth their salt, Nintendo is planning to provide users with regular content, events, and updates, in order to make sure they keep playing as long as possible.
In this post, we're going to list all the events and content updates for Fire Emblem Heroes in January 2018, so that you can find all those details in one place. Naturally, we will keep on updating this post as soon as new content and events go live.
January 17th
[Log-in Bonus] If you completed the Fire Emblem Heroes survey that was sent a few weeks ago, you can now claim 5 Orbs as Special Log-in Bonus. There's no notification on the main screen, but it's listed as "Survey Participation Reward" in the Present List (no end date?)
[Manga] The 9th chapter of the official Fire Emblem Heroes manga is now available: click here to check it out (Japanese-only)! (no end date)
Ongoing events – Elements
[Elements] The Elements for the current season are: Earth, Wind (available until January 23rd)
Ongoing events – Log-in Bonus
[Log-in Bonus] To celebrate the latest Summoning Focus, all players can get some bonus Orbs as Log-in Bonus, with the amount varying each day: 1, 1, 1, 1, 2, 1, 1, 1, 1, 3 (13 Orbs in total) (available until January 25th)
[Log-in Bonus] Until an unspecified date, you can get a Daily Log-in Bonus: 100 Hero Feathers (Monday), 1 Stamina Potion (Tuesday), 1 Dueling Crest (Wednesday), 100 Hero Feathers (Thursday), 1 Stamina Potion (Friday), 1 Duelling Crest (Saturday), 1 Orb (Sunday)
[Log-in Bonus] If you completed the Fire Emblem Heroes survey that was sent a few weeks ago, you can now claim 5 Orbs as Special Log-in Bonus. There's no notification on the main screen, but it's listed as "Survey Participation Reward" in the Present List (no end date?)
Ongoing events – Hero Battles and time-limited Special Maps
[Hero Battles] The Grand Hero Battle featuring Oliver: the Admirer of Beauty is now available. As usual, you can clear the map on Hard to get a 3 ★ version of that character, on Lunatic to get a [4 ★] version, and on Infernal to get a [4 ★] version and some Hero Feathers. Character added to this page (available until January 23rd)
[Hero Battles] The first season of Hero Battles is now available, and features the following characters: Sophia, Virion, Hana, Subaki, Donnel, Lissa, Gunter, Cecilia, Felicia, Wrys, Olivia, Stahl (in that order)
Ongoing events – Events and Others
[Event] The second Tempest Trials Mini event, "Stepping into the New Year…", is now live. Check out this post for all you need to know! (available until January 23rd)
[Events] Every week-end, you can get twice the usual amount of SP in battle (applies to Story Maps, Arena, etc.) thanks to the SP X2 Event (available from Friday to Sunday)
Ongoing events – Quests
[Quests] A new set of Special Quests is now available: "Infantry Mastery Quests". Clearing those allow you to get various goodies (including Orbs) (available until January 19th)
[Quests] A new set of Special Quests is now available: "Anna Quests". Clearing those allow you to get various goodies, including bonus Orbs, Sacred Coins, and more (available until January 23rd)
[Quests] The usual set of Daily Special Quests went live alongside the latest Tempest Trials Mini event. It allows you to get various bonuses, including Refining Stones (available until January 23rd)
[Quests] A new set of Special Quests is now available: "Guided by a Dream". It allows you to get some bonus Orbs by clearing the various maps on the latest Story Chapter on Lunatic (available until January 25th)
[Quests] A new set of Special Quests is now available: "Happy New Year!". It allows you to get bonus Orbs for clearing the new Paralogue Story maps on Lunatic (available until January 31st)
[Quests] Not one, but three new sets of Monthly Quests are now available for January (available until February 1st)
[Quests] A new set of Daily Quests is available until an unspecified date.
[Quests] A new set of Daily Quests is now available: "Arena Assault" (available until ???)
Ongoing events – Summoning Focus and Heroes
Ongoing events – Arena
[Arena] The latest set of Bonus Heroes is now available, and features the following characters: Micaiah, Sothe, Zelgius, Oliver, Sanaki, Fae, Linde, Chrom, Virion, Fjorm (available until January 30th?)
[Arena] Here's the list of current rewards (Rank):
[Arena] Here's the list of current rewards (Offense):
[Arena] Here's the list of current rewards (Defense):
[Arena Assault] Here's the list of current rewards:
[Arena Assault] Here's the list of current items:
Latest update
Manga
[Manga] The 9th chapter of the official Fire Emblem Heroes manga is now available: click here to check it out (Japanese-only)! (no end date)
This month's updates
January 1st
[Event] The 10th Voting Gauntlet event has been announced! It's called "Winter Festival vs New Year's", and it starts on January 1st. You will find all there is to know about it in this post! (available until January 7th)
[Event] Round 1 of the 10th Voting Gauntlet is now live. You will find all there is to know about it in this post! (available until January 3rd)
[Quests] The first set of Special Quests for the latest Voting Gauntlet is now live. You can clear the quests in order to get various bonuses (available until January 3rd)
[Log-in Bonus] During the Voting Gauntlet event, all players can get 5 Battle Flags every day as special Log-in Bonus (available until January 7th)
[Log-in Bonus] To celebrate New Years, all players can get 2 Orbs a day, during 10 days (so 20 Orbs in total) (available until January 16th)
[Maps] A new set of Daily Special Maps is now live, with one new map going live every day for 3 days straight (each map remains available for a full week). Clearing them on Normal and Hard allows you to earn up to 18 Orbs (available January 3rd)
[Maps] The first Daily Special Map for New Year is now available: "New Year's – Part 1". You can clear it on Normal and Hard to get some bonus Orbs (only the first time) (available until January 8th)
[Quests] A new set of Daily Special Quests is now available: "New Year's". It allows you to get Stamina Potions and Orbs (available until January 8th)
[Quests] Not one, but three new sets of Monthly Quests are now available for January (available until February 1st)
[Maps] The 9th Daily Special Map is now live: "Daily – Part 9". You can clear it on Normal and Hard, and get 1 Orb for each difficulty level (only the first time) (available until January 8th)
January 2nd
[Quests] The second set of Daily Special Quests for the Tempest Trials event is now live, and allows you to get various goodies by clearing them (available until January 9th)
[Maps] The 2nd Daily Special Map for New Year is now available: "New Year's – Part 2". You can clear it on Normal and Hard to get some bonus Orbs (only the first time) (available until January 9th)
[Maps] The 10th Daily Special Map is now live: "Daily – Part 10". You can clear it on Normal and Hard, and get 1 Orb for each difficulty level (only the first time) (available until January 9th)
[Arena] The latest set of Bonus Heroes is now available, and features the following characters: Camilla (Holiday Traveler), Takumi (Prince of Soup), Azura (Celebratory Spirit), Rhajat, Navarre, Olwen, Genny, Sophia, Gunter, Alfonse (available until January 16th?)
[Elements] The Elements for the current season are: Water, Wind (available until January 2nd)
January 3rd
[Event] Round 2 of the 10th Voting Gauntlet is now live. You will find all there is to know about it in this post! (available until January 5th)
[Quests] The second set of Special Quests for the latest Voting Gauntlet is now live. You can clear the quests in order to get various bonuses (available until January 5th)
[Maps] The 3rd Daily Special Map for New Year is now available: "New Year's – Part 3". You can clear it on Normal and Hard to get some bonus Orbs (only the first time) (available until January 10th)
[Maps] The 11th Daily Special Map is now live: "Daily – Part 11". You can clear it on Normal and Hard, and get 1 Orb for each difficulty level (only the first time) (available until January 10th)
January 4th
[Summoning Focus] A new Summoning Focus is now available: "Effective Against Cavalry". It includes the following characters: Gray, Mathilda, and Rhajat. Characters added to this page! (available until January 18th)
January 5th
[Event] The Final Round of the 10th Voting Gauntlet is now live. You will find all there is to know about it in this post! (available until January 7th)
[Quests] The final set of Special Quests for the latest Voting Gauntlet is now live. You can clear the quests in order to get various bonuses (available until January 7th)
[Quests] A new set of Special Quests is now available: "Infantry Mastery Quests". Clearing those allow you to get various goodies (including Orbs) (available until January 19th)
January 6th
[Maps] The Bound Hero Battle featuring Ephraim and Eirika is back for a limited time. You can clear it on Hard, Lunatic, or Infernal in order to get some Orbs (available until January 13th)
[Quests] A new set of Special Quests is now available: "Bound Hero Battle". Clearing those quests allow you to get soem bonus Orbs (available until January 13th)
January 9th
[Quests] A new set of Special Quests is now available: "Anna Quests". Clearing those allows you to get various goodies, including bonus Orbs, Sacred Coins, and more (available until January 23rd)
[Elements] The Elements for the current season are: Earth, Wind (available until January 16th)
January 10th/11th
[Update] A new update is now available for Fire Emblem Heroes: Ver. 2.1.0. You can find more details in this post (coming soon), and the patch notes on this page!
[Maps] A new Squad Assault is now available: "6th Assault". Clearing it allows you to get 2 Orbs and a Sacred Seal (no end date)
January 12th
[Summoning Focus] A new Summoning Focus is now live: "World of Dawn". It features several characters from Fire Emblem: Radiant Dawn: Micaiah, Sothe, and Zelgius. More details can be found in this post, and characters added to this page (available until January 25th)
[Maps] A new Story Chapter is now available: Guided by a Dream (no end date)
[Quests] A new set of Special Quests is now available: "Guided by a Dream". It allows you to get some bonus Orbs by clearing the various maps on the latest Story Chapter on Lunatic (available until January 25th)
[Log-in Bonus] To celebrate the latest Summoning Focus, all players can get some bonus Orbs as Log-in Bonus, with the amount varying each day: 1, 1, 1, 1, 2, 1, 1, 1, 1, 3 (13 Orbs in total) (available until January 25th)
January 13th
[Summoning Focus] A new Summoning Focus is now available: "Tempest Trials". It includes the following Heroes: Ryoma, Hinoka, and Sakura. Characters added to this page (available until January 23rd)
January 14th
[Hero Battles] The Grand Hero Battle featuring Oliver: the Admirer of Beauty is now available. As usual, you can clear the map on Hard to get a 3 ★ version of that character, on Lunatic to get a [4 ★] version, and on Infernal to get a [4 ★] version and some Hero Feathers. Character added to this page (available until January 23rd)
January 16th
[Event] The second Tempest Trials Mini event, "Stepping into the New Year…", is now live. Check out this post for all you need to know! (available until January 23rd)
[Quests] The usual set of Daily Special Quests went live alongside the latest Tempest Trials Mini event. It allows you to get various bonuses, including Refining Stones (available until January 23rd)
[Arena] The latest set of Bonus Heroes is now available, and features the following characters: Micaiah, Sothe, Zelgius, Oliver, Sanaki, Fae, Linde, Chrom, Virion, Fjorm (available until January 30th?)
[Elements] The Elements for the current season are: Earth, Wind (available until January 23rd)
January 17th
[Log-in Bonus] If you completed the Fire Emblem Heroes survey that was sent a few weeks ago, you can now claim 5 Orbs as Special Log-in Bonus. There's no notification on the main screen, but it's listed as "Survey Participation Reward" in the Present List (no end date?)
[Manga] The 9th chapter of the official Fire Emblem Heroes manga is now available: click here to check it out (Japanese-only)! (no end date)
Previous months
Source: Fire Emblem Heroes