Zelda Tri Force Heroes: update with new area out on Dec. 3rd (Ver 2.0.0), patch notes
Update
We added some screenshots and a video to this post: you will find all that below!
***
Software update and free DLC
Yesterday, during the latest Nintendo Direct presentation, Nintendo announced that The Legend of Zelda Tri Force Heroes would get a major update on December 3rd (December 2nd in North America). It will add a brand new area called the Den of Trials, which consists of 30 stages. What's more, players need to defeat all the enemies in each stage before being able to proceed. This is quite the challenge, but good news: you will be able to use savepoints.
The update will also add two new costumes, that you will have to unlock:
Fierce Deity Mail: increased attack power and shoot beams in 4 directions
Linebeck's uniform: lets you see inside treasure chest before opening it
This major update and the free DLC will be available from December 3rd (December 2nd in North America). Here's the changelog for this update:
New area (Den of Trials). Includes 32 levels.
New costumes. The player needs to fulfill some conditions in order to unlock them
Following the update, the Friendly Tokens will be available for purchase at the street merchant in Hytopia. But first, you need to lift the curse on Princess Frill/Styla (in other words, you need to beat the game).
Miiverse stamps added.
A new system will be added, making it easier to match up with players with a similiar playstyle to yours, when playing online. When you chose to go online, you will have to answer a question. You will then be matched up with players who came up with a answer similar to yours.
You will be able to blacklist players who quit midgame, via the pause menu (during a game). After they've left, but before the game is saved, you can add them to your blacklist by press A or B while touching the Hero Panel of the player who just quit.
Introduces additional enhancements to improve the user's experience and enjoyment.
This update is quite meaty, with free DLC and some major changes (the one involving Friendly Tokens is bound to please many a players!).
To download this update, you will have three options:
launch The Legend of Zelda: Tri Force Heroes from the Home Menu, while being connected to the internet
go to the Nintendo eShop and search for The Legend of Zelda: Tri Force Heroes
use the options in the Nintendo eShop settings page
To check that you have the latest version installed, simply launch the game and you should see this in the top right corner of the top screen: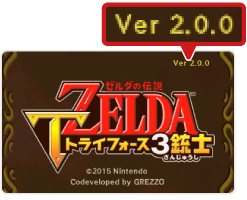 A huge thanks to Ash for his translation of the patch notes!
Here's some screenshots for the update:
Source: Nintendo
Head after the break for more news!
Art Academy Sketchpad / Atelier contest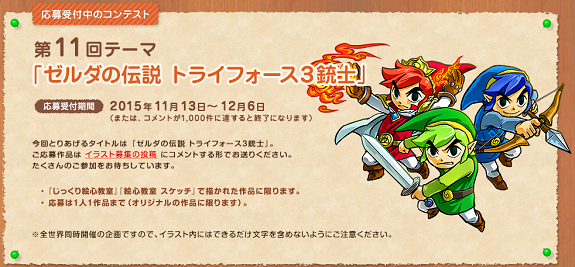 This morning, Hiromasa Shikata (Director) announced another contest for Art Academy Atelier / Sketchpad: it runs from November 13th (today) to December 6th. The theme is The Legend of Zelda: Tri Force Heroes and the number "3". If you're interested in submitting your own entry, you can check out the rules below!
The submission period for this contest will be over on December 6th, or whenever the announcement post reaches 1 000 posts. After that, the development team will pick up their favorite (Gold, Silver and Bronze), based on skill, artistic expression, originality, and creativity. The winners will then be posted to the Art Academy Events community a few days after the contest is over (obviously, you can expect a post from us!).
Here's the message from Hiromasa Shikata on Miiverse:
Finally, here's a guide video from Japan:
https://www.youtube.com/watch?v=hmZ8Zpx1u14
Source: Miiverse