Yo-kai Watch: trailer for the third movie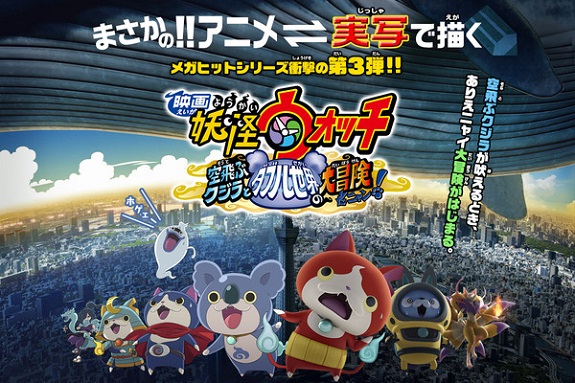 Last week, we learned that the third Yo-kai Watch movie would open on December 17th in Japan. Called Yo-kai Watch: Sora Tobu Kujira to Sekai no Dai Bouken da Nyan (lit. The Flying Whale and the Grand Adventure of the Double Worlds, Meow!), this third movie is a bit special: it features both animated and live-action segments (something Akihiro Hino already talked about in an interview a couple of weeks ago).
The cast is the same for the animated segments and the Yo-kai, but during the live-action segments, Keita Amano / Nate Adams will be played by Ryouka Minamide.
Curious to see what the mix of animation and live-action looks like? If yes, here's some good news: the very first trailer for the movie is now available!
https://www.youtube.com/watch?v=Vv9RdmA_New
This trailer shows Koalanyan (another Jibanyan variant), a brand new Yo-kai which is apparently key to the movie's plot.
Pre-sale for tickets will start on July 16th, and the 500 000 first fans who buy one will be able to get the following:
Real Jibanyan Ver. Dream Medal (compatible with Yo-kai Watch 3: Sushi / Tempura)
Real Komasan Ver. Data Cardass
Yo-kai Watch: Sora Tobu Kujira to Sekai no Dai Bouken da Nyan (movie) will debut on December 17th in Japan.