Level-5: Akihiro Hino (CEO) talks about Yo-kai Watch, Snack World, 2017 projects
Today, Nikkei Trendy published a rather lengthy interview with Akihiro Hino (CEO of Level-5), which covers various topics ranging from Yo-kai Watch to the opening of a studio in Tokyo, and including The Snack World, and more. You can find a lot more than what we're going to cover below on Siliconera, who translated parts of the interview.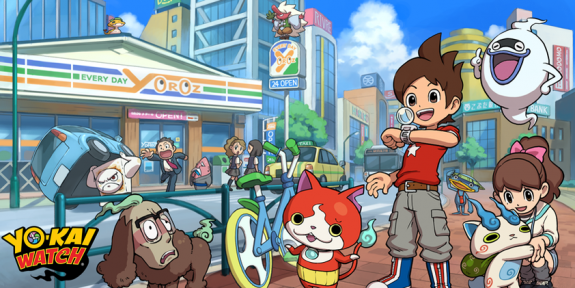 If you're wondering how Yo-kai Watch is doing in North America, there's some good and bad news:
the good: the anime series has received good ratings;
the bad: the game has sold only ~400 000 units so far, far from enough for Akihiro Hino.
It looks like the company has various plans to boost the series in North America, such as releasing content there that's not yet available in Japan, or at the same time as Japan. There's no doubt that the 2.5 years wait for the first Yo-kai Watch game didn't help, so "fixing" that in future may be a pretty good idea.
As for the third Yo-kai Watch movie, we learn that it was originally supposed to be full-CG, but it wouldn't have taken about 2 years to make (same for live-action). As a result, the movie will mix CG and live-action scenes.
About Yo-kai Watch 3, Akihiro Hino explains that re-using the same map would be a discourtesy to the players (which is most likely why they decided to move the game to the United States in the first place). Of course, there will be plenty of new Yo-kai besides those from the previous games. As a result, the actual game size (data) is said to be twice as big as Yo-kai Watch 2.
Talking of Yo-kai Watch 3, here's a TV commercial:
https://www.youtube.com/watch?v=CVxv09yRCaY
And after the release of Yo-kai Watch 3, it looks like the series is going to take some sort of break.
2017 will be the start of many things, according to Akihiro Hino, so that's most likely when The Snack World and the Inazuma Eleven "reboot" will launch. At this point, it's safe to say both are not 3DS projects (anymore).
Finally, there will be some news about The Snack World at the Level-5 Vision 2016, which still hasn't been dated). It sounds like it will be the main focus of the presentation, as Akihiro Hino promised a lot of info about the project.
Source: Nikkei Trendy
Translation by Siliconera