Xenoblade Chronicles 2 Soundtrack album: almost 15 000 units sold at launch; issue with Disc 2
On May 23rd, the Xenoblade Chronicles 2 Soundtrack album was released in Japan, and just like previous soundtrack album for Nintendo games in the past few months, it's off to a great start. According to Oricon, it was the 9th best-selling album during its launch week, with almost 15 000 units sold: 14 953 to be precise.
Unfortunately, it looks like only the Standard Edition are counted here, not the Complete Edition and the one with the USB drive. Since the latter was limited to 2 000 units, and was completely sold out ahead of launch, that means the soundtrack has probably sold around 17 000 units (which would make it the 8th best-selling album during its launch week).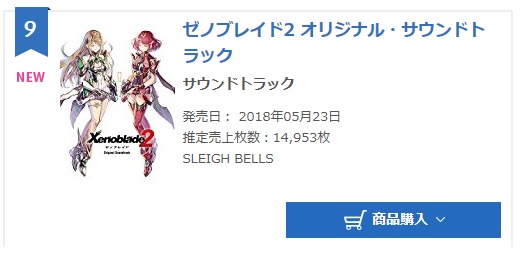 Here's how previous soundtrack albums for Nintendo games sold at launch:
Splatoon – ~43 000 units (Rank 2)
The Legend of Zelda: Breath of the Wild – 23 328 units (Rank 4)
Splatoon 2 – ~18 000 units (Rank 4)
Speaking of the Xenoblade Chronicles 2 Soundtrack album, there is an issue with Disc 2 of the first-print copies of the following editions:
Type B: Luxury CD Music Complete Edition (Amazon) (SBPS-0025~30)
Type C: Regular Edition (SBPS-0031~35)
NB: if you have any other version of the soundtrack (Type A: Luxury USB Music Complete Edition, (SBPS-0024), or digital), then there's nothing wrong on your end.
The issue is pretty minor, but still quite noticeable. It impacts the tracks #9 and #10, the Day and Night variants of the Garfont Village theme. The problem is that the transition from Track 9 to Track 10 is messed up: the last 10 seconds of Track 9 actually ended up at the beginning of Track 10. As a result, Track 9 ends abruptly, and Track 10 starts in a weird way.
Procyon Studio is aware of the issue, and has set up a free replacement offer for Disc 2. All you have to do is fill up this Google form, and you will receive your free replacement disc. Do note that you need to provide a proof of purchase, and as mentioned above, only people who bought the Complete Edition and Regular Edition of the album can get a free replacement disc (because only them need it in the first place).
By the way, even if you got your copy of the album signed at one of the launch events in Japan, you can still get a replacement disc! The replacement discs will be shipped from late June onwards. You have until June 30th 2021 to fill up the form.
Unfortunately, there's a catch… this offer is only for people residing in Japan. In other words, if you imported the soundtrack (from Amazon, for example), you're out of luck. Of course, you can always download the two tracks from iTunes (for example), if you ripped the album for private use on your phone, mp3 player, etc.. But if you listen to the album directly from the CD itself, there really is nothing you can do…
Source: Oricon / Procyon Studio