Tokyo Mirage Sessions #FE: details and English screenshots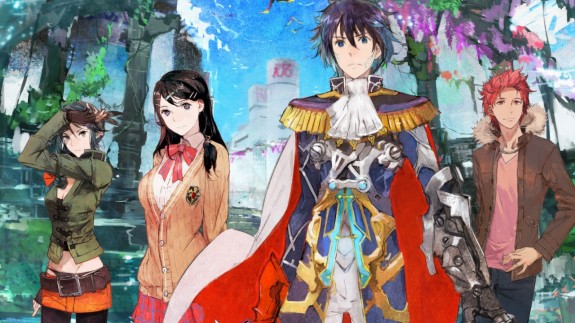 Tokyo Mirage Sessions #FE (English name of Genei Ibun Roku #FE, the Shin Megami Tensei X Fire Emblem collaboration title) comes out in a little under two months in Europe and North America: on June 24th to be more precise. Today, Nintendo sent a press release to give additional details about the game, but nothing really new unfortunately.
In Tokyo Mirage Sessions #FE, you will get to control a group of teenagers, including Itsuki Aoi, Touma Akagi (Itsuki's friend), and Tsubasa Oribe (an aspiring pop idol). One day, a wave of evil Mirages attack Tokyo, and kidnaps Tsubasa. With the help of Fire Emblem characters such as Chrom and Caeda, they manage to defeat the evil Mirages and escape from the Idolasphere.
That's when they're recruited by Fortuna Entertainment, a Talent Agency which is more than just a mere talent agency: they're also secret defenders against the invading Mirages.
Idolasphere is the name of the dungeons you can explore in the game, and they each have a specific theme (such as photography or television). As for the battle system, it's turn-based, and features a weakness system inspired by the Weapon Triangle fans of the Fire Emblem series are pretty familiar with.
By exploiting enemy weaknesses, you can not only deal more damage, but also trigger Sessions. Those are combination attacks, where teammates keep attacking in order to deal more and more damage. As your characters and their Mirage level up, they get new skill and abilities, offering even more possibilities for battles.
As mentioned previously, the English version of Tokyo Mirage Sessions will only feature the original VA in Japanese, but with English subtitles (unfortunately, there will not be subtitles in any other languages according to the recently updated official gamepage).
The press release also confirms that the 3 DLC packs from the Fortissimo Edition will also be available for purchase from the Nintendo eShop, and will include additional dungeon quests and costumes for several characters.
Finally, here's some screenshots in English:
And here's some artworks:
Tokyo Mirage Sessions #FE (Wii U) comes out on June 24th in Europe and North America.
Source: Nintendo PR