The Legend of Zelda: Tri Force Heroes – Overview trailer and new details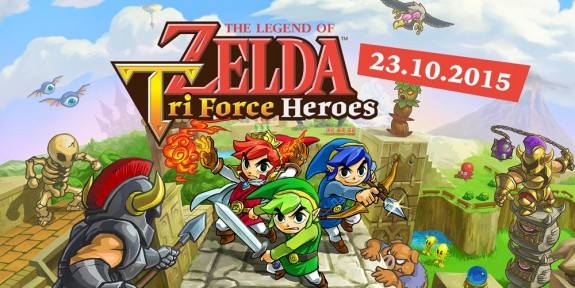 The Legend of Zelda: Tri Force Heroes comes out in less than a month worldwide, and Nintendo thought now was the perfect time to reveal a new trailer and additional details about the game. We learn that the game takes place not in Hyrule, but in Hytopia: a Kingdom said to be obsessed with fashion, where "sartorial elegance" is celebrated.
The Kingdom is thrown into disarray when an evil witch places a curse on Princess Styla. In order to save her, King Tuft promises a marvelous reward to whoever manages to lift the curse. And with the citizens calling for the return of the "Totem Heroes", you go venture in the Drablands in order to hunt down the witch and save the Kingdom from a fate severely lacking in the stylish department.
As mentioned previously, you will be able to play:
in Single Player
in local wireless (Download Play supported)
in online multiplayer (you won't be limited to people in your friend list, and you will be able to play with complete strangers)
To communicate online, you can use in-game emoticons to tell the other players to come help you fight a monster, or form a totem. And if you decide to go save the Kingdom alone, you will be accompanied by dolls called "doppels": you can take control of them in turn, in order to defeat enemies and solve puzzles.
During the game, you will collect some materials: if you bring them to Madame Couture, she will make some costumes for you (with special abilities). There's a total of 36 costumes in the game. Nintendo also confirms that players can unlock special challenges by mastering each of the 32 levels in the game.
Finally, there's the camera you can get from the Photo Bro (a character managing the in-game Miiverse gallery): it allows you to take snapshots during your adventure. What's more, you will also be able to get special stamps, to use on Miiverse: there's one for each costume.
Here's the overview trailer for The Legend of Zelda: Tri Force Heroes on Nintendo 3DS:
Finally, here's some screenshots:
Head after the break for some gameplay footage!
As a bonus, here's some gameplay footage courtesy of Nintendaan:
The Legend of Zelda: Tri Force Heroes (3DS) comes out on October 22nd in Japan, and October 23rd in Europe and North America.
Source: Nintendo