Super Smash Bros. (Wii U / 3DS): Sakurai talks about the Smash Ballot and the DLC characters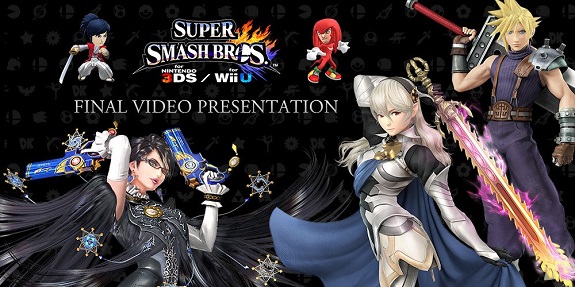 Last week, the last video presentation for Super Smash Bros. for Wii U and Nintendo 3DS was streamed live. The last two DLC characters were revealed, but we didn't really get the results of the Smash Ballot. Masahiro Sakurai did say that Bayonetta was the #1 choice worldwide when looking at "possible" characters (realisable in Smash, no issues with the right holders, etc.). This implies that some characters may have been more popular, but were not picked up due to various reasons.
Masahiro Sakurai said the same thing in Famitsu magazine this week, and revealed that the number of votes for the Smash Ballot was about 1.8 millions (minus duplicates). Since Bayonetta 2 was a Wii U exclusive, negotiations with SEGA really weren't an issue at all. What caused many headaches was trying to get past the various rating agencies. CERO (in Japan) was pretty strict about Bayonetta's sexy antics, which are a central part of the character itself.
In his column, Masahiro Sakurai also talks about Corrin, from Fire Emblem Fates. Originally, the team decided to include a character from an upcoming game as DLC, and after discussing it with Nintendo, it's Fire Emblem Fates which was picked up. After all, the game is yet to be released in Europe and North America, and since it comes out on February in North America, the timing was just right.
Initially, Masahiro Sakurai was a bit worried about having too many Fire Emblem characters in Super Smash Bros. for Wii U and Nintendo 3DS. But after discussing it with the staff, he was pretty confident he could make Corrin an interesting character for the game.
You can find the full translation of Masahiro Sakurai's column, with more details about the DLC characters, by clicking here. If you're interested in the Fire Emblem series, you should definitely check out this translation from the Fire Emblem 25th Anniversary Making-of book! In this one, Masahiro Sakurai talk about the Fire Emblem characters in the various Super Smash Bros. games.
Source: Famitsu
Via: Source Gaming